Headlights pierce the black rehearsal space as the sound of tires squeal through the room in an ominous opening to Orlando Fringe Festival production, "Josie & Grace." Across the room at a tech table is Valencia College student Savannah Wilson, illuminated only by the glow of her laptop as she runs the sound cues of the rehearsal as an assistant stage manager.
As Wilson has discovered in her first Orlando Fringe production, being an assistant stage manager is tedious and requires a vigilant, detail-oriented skill set that runs non-stop throughout the show. Pursuing an Associate of Science in Entertainment Design Technology with a specialization in Production Design, Wilson once considered stage managing outside her comfort zone. Instead, she started on stage as a dancer and performer before shifting her focus to design.
"I was encouraged to join tech theater [in high school]," Wilson recalls. "I immediately fell in love [with] set design, costumes, lighting, sound, props. I found them to be outlets for my creativity and I loved making inanimate things tell stories. I've performed in a few shows here or there, but I prefer to build the world that the characters live in."
Wilson has always known her career would fall somewhere within the artistic and theatrical world, first being drawn to the arts as a child in her hometown of Katy, Texas. Moving from dance and ballet, to acting and technical work, she expanded her horizons to get a taste of every aspect of working in a theater. Regardless of the role, however, Wilson knew entertainment was where her heart was.
So when the COVID-19 pandemic forced theaters to shutter their doors last year, including Valencia College's own live performances, Wilson longed to work in the theater in person again –  in whatever capacity she could. After running Valencia's virtual production of "She Dreams of Heroes" as a stage manager, she knew there was something in the position that called to her, and she longed to try her hand at stage managing in-person.
"I definitely missed doing theater in person. Virtual is great and we had to get really creative and innovative to pull it off and communicate, but getting back to what I know and what I love has been so nice," Wilson says. "I was always intimidated by [stage managing], but…I don't see myself jumping off this train any time soon."
Wilson reached out to Rebekah Lane, director of the School of Arts and Entertainment and Wilson's director during "She Dreams of Heroes," for help. The pair worked together to find Wilson an opportunity to tackle the challenge of stage managing a live show. Valencia College professor Aradhana Tiwari answered the call, and shortly after, Wilson had landed her first assistant stage manager role at Orlando Fringe for Tiwari's "Josie & Grace."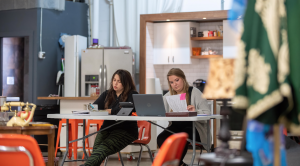 Throughout the run, Wilson focused on supporting the stage manager, Melyssa Marshall, with her long list of tasks and overseeing all backstage activities, including handling quick-changes for actors, tracking props, and operating practical lights while Marshall called the cues from the stage manager booth. It's not a glorious position by any means. There are no spotlights on the stage management team, the applause is nonexistent, and they often blend into the background (purposefully) in their show blacks (the all-black clothing they wear while working). But without the backstage help and the calls from the booth, the show would struggle to run smoothly and efficiently.
"Savannah is the magic that helps make all of this happen," says Tiwari, the director.
Directed by Tiwari and written by Michael Marinaccio and Tod Kimbro, "Josie & Grace" is a mostly historical cabaret dream play about the legendary friendship between Josephine Baker and Grace Kelly. The storyline follows their meteoric rise to fame all the way through Kelly's tragic car accident and death in 1982.
During its run at Orlando Fringe's 30th anniversary of the festival this past May, "Josie & Grace" was declared a winner of one of only 18 Orlando Fringe Festival Critics' Choice awards – not a bad way for Wilson to close out her first production as an assistant stage manager.
"I think my education at Valencia and experience with other shows has definitely prepared me for this, but I'm also learning so much daily about Orlando theater and Orlando Fringe," Wilson says. "Everyone is so professional and nurturing. It has been a wonderful experience and I'm thrilled for this opportunity."
Didn't make it out to the Orlando Fringe Festival?  You can still catch this award-winning production of "Josie & Grace" online during the inaugural "DigiFringe" from June 4–18. For more information, visit: https://orlandofringe.org/