On a sunny February afternoon, Valencia College professor Mark McMeley is seated at a desk perusing photographs in an old photo album. Most are snapshots, images of people he's never met – and whose identities he may never know.
But the photos are a window into the history of African-Americans in Orlando, and McMeley has spent the past year scanning and digitizing a collection of photos at the Wells' Built Museum in Orlando's historic Parramore neighborhood.
Armed with little more than a digital scanner – donated by UCF Downtown — he's leading an effort to preserve photos and create a digital archive that can be used by future researcher and historians.
But he's also hoping that, by using social media and the tools of the 21st century, the museum can collect photos and material that many families in Orlando may be thinking of throwing away.
"We have 1,800 photographs now – but eventually we should have about 10,000," says McMeley, who teaches humanities and history at Valencia College's Downtown and Osceola campuses.
Together, McMeley and museum director Elizabeth Thompson hope to remind members of Central Florida's African-American community that old photographs – and mementos, such as programs from events – may have historical value. "We're trying to develop a sensitivity," says McMeley. "Things that don't seem valuable to us now may be valuable in the future."
On this day, he is scanning photos from Washington Shores Savings & Loan, the first black-owned bank in Florida.  Other images include photos from a Martin Luther King Day parade, as well as civic luncheons and meetings.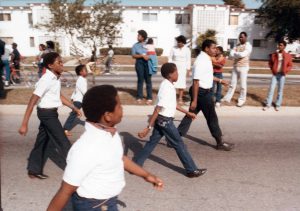 Most of the photographs that McMeley is preserving came from the photo albums donated to the Wells' Built Museum by Rufus Brooks, the longtime elementary school principal, civil rights activist and director of the Orlando NAACP who passed away in 2016.
By examining photographs from a period – whether it was Depression-era Orlando or images from the Civil Rights era – he believes we can bring history to life. "Taking people you have no idea about – and saying, 'tell me about the context of their lives,' builds empathy and understanding," says McMeley, who has also led efforts to scan and digitize photo collections about immigrants to his hometown of Monett, Mo.
Today, the Wells' Built Museum is hoping to find old photographs that will illustrate the history of the African-American experience in Central Florida.
"We know this stuff is out there," says Elizabeth Thompson, executive director of the Wells' Built Museum. "We have an ongoing call to the community to donate photos."
And though most people think their photos – of local events or people – may not be important, Thompson begs to differ.
"I think what is important to understand is the history that we recognize as being of national importance all started out as local events," says Thompson. "Brown versus Board of Education became a national news story, but it started in Topeka, Kansas. The Selma bus boycott started in Selma, Alabama. We want to preserve Central Florida history – because history has a ripple effect."
What's on Thompson's wish list: Photos of Central Florida's first elected black officials – and people who were responsible for integration of public spaces. "We do have information on Orlando's first black police officer, but we want more of those photos and stories of people who were instrumental in crossing the color barrier," she says, "so we can understand what they went through."
McMeley is also urging local families to donate photos – or let him make copies of the photos — while family members can remember the people or events in the pictures. "When we get photos that are 70 or 80 years old, good luck," he says. "We may never know who those people are."
It's especially important to find photos from events that took place in the black community, says McMeley, because the mainstream white press often did not cover events in the black community. For instance, although Dr. Martin Luther King held a rally at Orlando's Tinker Field in 1964, most local news media outlets did not cover his visit. Only the Orlando Evening Star printed two photos.
"In the African-American community, very little was preserved," says McMeley. "If we don't preserve those photos and artifacts, it's going to be lost."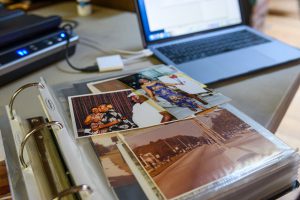 McMeley visits the museum every week, scanning photographs and sorting them into categories – even though he often does not know who's in the picture. In one year, he has scanned and catalogued about 800 photographs. In the coming year, he hopes to enlist student volunteers from Valencia College Downtown and UCF Downtown to help him scan and categorize photos – and post photos on social media, so the student detectives help him figure out who or what is in the picture.
Already, his photo archival work has inspired him to create an exhibit now on display at Valencia College's Osceola Campus. The exhibit, titled "Babies in the Basement," tells the story of Orlando's segregated hospital facilities – when Orange Memorial Hospital (now Orlando Regional Medical Center) housed all black patients in the hospital's basement.
Eventually, says McMeley, the museum team would like to ask the community to let them make copies of "paper materials" such as programs, ledgers and letters.  "We would love to have letters," says McMeley. "They tell the personal kinds of stories on which we can build the history of this area."