With classes beginning on Aug. 25, now is the time for new students to apply to Valencia College to be sure they get the best selection of classes for the fall.
New students are encouraged to turn in their applications by Aug. 8 so they can finish the enrollment process and receive priority in registering for fall classes. Those who miss the Aug. 8 enrollment deadline, however, can still apply and enroll for the fall.
Admissions information and the online application are available at http://valenciacollege.edu/futureStudents/admissions/
And for families worried about student loan debt and the increasing cost of college, here's good news: Tuition for in-state students at Valencia is $103.06 per credit hour – which is approximately half the cost of tuition at the state's four-year universities.
Financial aid is available. About 50 percent of Valencia students receive some form of financial aid; last year, Valencia students were awarded more than $150 million in financial aid, including grants, scholarships, loans and work-study.
Valencia offers classes at five campuses in Orange and Osceola counties: East Campus, located on Econlockhatchee Trail in Orlando; West Campus, located on Kirkman Road in Orlando; Winter Park Campus, located on Morse Boulevard in Winter Park; Lake Nona Campus, located on Narcoossee Road near Medical City; and Osceola Campus, located on Denn John Lane in Kissimmee.
Valencia, which was named the nation's best community college in 2012 by the Aspen Institute, offers a wide variety of programs for students.
New this year is a course titled "Zero to Apps," which teaches students the basics of computer programming and how to create an application (or app) for mobile phones. The course – which condenses three semesters of classwork into one semester – is offered at Valencia's West Campus.
Also new this year: Students can earn a certificate in 3-D Printing (also known as a Rapid Prototyping Specialist). The college is also offering new technical certificates for Digital Broadcast Production, Advanced Electronics Technician and Homeland Security Law Enforcement Specialist.
The Associate in Arts (A.A.) degree is awarded after a student completes a general education program of 60 credit hours. With an A.A. degree from Valencia, graduates are guaranteed admission to the University of Central Florida through DirectConnect to UCF.
The college also offers more than 40 Associate in Science (A.S.) degree programs, including Cardiovascular Technology, Radiography, Computer Programming and Analysis, and Electronics Engineering Technology. These programs provide specialized training that prepares graduates for immediate entry into the workforce.
Valencia's A.S. degree graduates have a 95-percent job placement rate and earn an average annual salary of $38,912 – almost 80 percent more than local high school graduates.
Valencia also has a thriving and nationally known honors college. The James M. and Dayle L. Seneff Honors College features four different concentrations. Honors students at the Osceola Campus focus on leadership; students at the East Campus concentrate on science and research; students on West Campus focus on interdisciplinary studies; and students at the new Winter Park honors program focus on becoming global citizens, with outreach to a sister college in the Netherlands.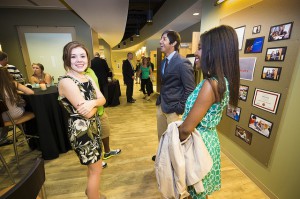 In addition to associate degrees, Valencia also offers three bachelor's degree programs at its West Campus. The Bachelor of Science in Radiologic and Imaging Sciences prepares students to work in the medical field of computed tomography, magnetic resonance imaging and quality management. The Bachelor of Science in Electrical and Computer Engineering Technology has concentrations in computer systems, electrical/electronic systems and lasers and photonics. And Valencia recently unveiled a Bachelor of Science in Cardiopulmonary Sciences.
Valencia has also partnered with UCF and the University of Florida to provide architecture students with a unique 2+2+2 program that allows students to earn an associate's degree in architecture at Valencia, finish a bachelor's degree in architecture at UCF and complete a master's degree at the University of Florida's Orlando-based architecture program. Last spring, the first graduates of the 2+2+2 program earned their degrees and each was hired upon graduation.
At Valencia's Osceola Campus in Kissimmee, Valencia has teamed up with UCF to offer a Bachelor of Science degree in Biomedical Sciences. The degree is aimed at students who are interested in the health profession – whether it's becoming a doctor, pharmacist, veterinarian or biomedical researcher.