A letter to the Valencia College community from Dr. Sandy Shugart, Valencia College's president:
Friends and colleagues:
I'm saddened to learn that Valencia College lost one of its founding fathers recently. Dr. James Gollattscheck, who served as the second president of Valencia from 1970 to 1984, and whose tenure was marked by the college's astounding growth, passed away on Nov. 6 at the age of 91.
Throughout his career, Jim Gollattscheck was a builder – a man who helped craft the first courses and degree programs at Valencia, who hired the first faculty members, who oversaw the building of the West and East campuses and who helped lay the foundation for the college that Valencia has become today.
In 1967, Jim was part of the senior team assembled by Valencia's first president, Dr. Albert Craig, who announced during his interview process that he already had a team ready to go. That team consisted of Craig's former colleagues from the Pinellas County school system: Roy Kinnick, who became the dean of student affairs at Valencia, and Jim, who served as Valencia's first dean of academic affairs.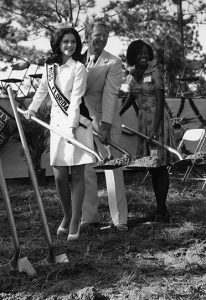 With only six months to create a community college, the trio rented an apartment in Orlando while their wives and kids stayed in St. Petersburg to finish out the school year. "Since we had no family responsibilities, we found that we could work all day in our office and then around the dining table until midnight," Jim later told Orville Davis, for a book about Valencia College's founding. "We often joked later that much of Valencia was created around a dining table in a small apartment on West Colonial Drive."
After helping Al Craig successfully launch the college, Jim was tapped to lead the college when Craig, the first president, resigned in 1970 to teach at UCF. Jim also established Valencia's "Open Campus," a concept of lifelong learning borrowed from Great Britain, where college classes were held at locations throughout the community. The Osceola Campus also started as an Open Campus site, launching classes in 1974 at a shopping center.
After leaving Valencia in 1984, Jim served as vice president of the American Association of Community Colleges in Washington, D.C.
We owe a huge debt of gratitude to Jim Gollattscheck, who helped forge the path for Valencia to become the community asset that it is today. Our thoughts and prayers are with his family, friends and the many people whose lives he touched through his life.
Pax,
Sandy
To read more about Jim, you can find his obituary here.