Ever heard of places with names like the Alabama Red Hills, the Okefenokee Swamp, The Everglades and the Great Dismal Swamp? How about Amerindian names of rivers, such as Mississippi, Apalachicola, Suwannee or Ashepoo?
All of these places are actually located in a very big region — the Coastal Plain of the southeastern United States, which stretches more than 2,000 miles from the border of Mexico to beyond Long Island, N.Y.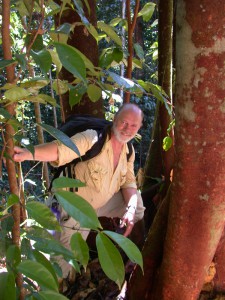 If you're interested in ecology or biology or love the idea of exploring, join us on Tuesday, Feb. 17 from 1 to 2 p.m. in Valencia College's Performing Arts Center to learn more about this incredibly diverse region from renowned explorer and ecologist Bruce Means.
Means' presentation will be titled, "One of the World's Main Biodiversity Hotspots, The Southeastern U.S. Coastal Plain: Overlooked and Underappreciated."
A book signing will take place afterward.
Means earned his doctorate from Florida State University studying the ecology of the Florida panhandle. The past director of Tall Timbers Research Station near Tallahassee, he is currently executive director of Coastal Plains Institute and Land Conservancy and an adjunct professor of biological science at FSU.
A field ecologist with 50 years' experience, his main research interests center on fire ecology, ecosystems of the southeastern U.S., longleaf pine ecosystem, ecology of South American tepuis, biogeography, pond ecology, amphibians and reptiles, and rare and endangered species. He has published 11 books and 270 scientific research papers, contract reports, and popular articles that have appeared in Natural History, National Geographic, International Wildlife, National Wildlife, BBC Wildlife, South American Explorer and other natural history magazines.
He co-produced and starred in numerous documentary films for National Geographic Explorer, BBC Television, and PBS.
His most exciting recent research is the discovery of a South American biodiversity hotspot, where he has found many frogs, giant earthworms, and terrestrial crabs new to science.
Means' presentation will be held in the Performing Arts Center on Valencia College's East Campus, located at 701 N. Econlockhatchee Trail, Orlando.