Dalton Joseph came to Valencia College with one goal: to beat the odds.
And he has. Dalton Joseph has been named Valencia College's Mary S. Collier Distinguished Graduate for 2019. But a few years ago, not many people would have bet on his future.
Growing up as the son of Haitian immigrants, in a single-parent home, he faced long odds to start with. To make matters worse, he was surrounded by violence – living in an apartment where a man was murdered outside their front door, and later in a neighborhood where breaking into houses was considered a better job for a teen than mowing grass or washing cars.
Against that backdrop, Joseph saw where his life could be headed. And he knew that unless he did something drastic, he could end up like many of his friends: dead or in prison.
He came astonishingly close to the same fate. Although he'd been a good student and captain of the basketball team in middle school, Joseph faltered in ninth grade – and didn't get his physical completed in time to participate in sports at Evans High School. That slip-up suddenly provided the once overbooked young athlete with lots of free time – time to hang out with the guys in his neighborhood. And before long, 15-year-old Dalton Joseph was in over his head.
Eager to make money – yet uninterested in jobs like cutting grass – Joseph fell in with a gang of young men breaking into homes. "I was going down a dark path," he says now, "and yet the deeper I got into the juvenile system, the more desperate I felt. There was no turning back."
But when a close friend died, leaving behind a baby he would never know, and his older brother was sent to prison with a sentence of more than 40 years, Joseph took stock of his life. "I asked myself: Do you want to be next?"
That moment transformed him. Joseph, who had dropped out of high school in 10th grade, began working, first in construction and then as a busboy at a restaurant. And as he toiled long hours, he heard the echoes of his father's voice in his ears. Education is the key to a better life, his father always said. His father knew from experience: He, too, had dropped out of high school in Haiti and now worked long hours driving a taxi.
Fueled by determination, Joseph began studying for a GED. And when he earned it, he went back to Evans High School to share his success with one of his favorite high school teachers. She not only encouraged him to apply for a Bridges to Success scholarship, she lobbied on his behalf.
But even that was a long shot – because most Bridges students are high school graduates, not high-school dropouts with a juvenile record.
So, when Joseph won the scholarship and started classes in summer of 2016, he was determined to prove that the Valencia team had not made a mistake.
"I said I was going to do everything I didn't do in high school – sit in the front, not in the back of classrooms. I showed up every day, not just when I felt like it. I completed every assignment, not just the ones we could finish in class."
And when his first semester grades came back, Joseph had earned all As — a 4.0 grade point average. In high school, he'd quit in 10th grade with a 1.8 GPA.
He became a member of the West Campus Student Government Association, and was invited to become a member of Phi Theta Kappa, the national honor society for students at two-year colleges. He also represented Valencia College at national conferences on race and ethnicity and college leadership.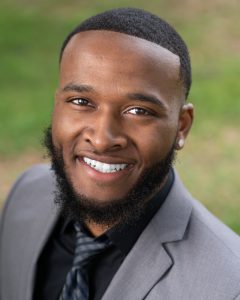 He also began volunteering at fire stations because he dreamed of becoming a firefighter. But when he learned that he wouldn't get hired because of his juvenile record, Joseph didn't let that defeat him.
Instead, he set his sights on becoming a teacher. Today, he works at a community center part-time and regularly volunteers at Evans High School, where he shares his story and his message of resilience with current high school students. What he wants most of all, says Joseph, "is to be a symbol of hope and change."
And what better symbol than a 22-year-old who has already beaten the odds — becoming the first in his family to earn a college degree, graduating with a 3.8 GPA and studying for a career where he can change lives?