This spring, when Valencia College students Nathan Short, Fabian Martinez and Widler Rislin were brainstorming about a capstone project for their bachelor's degree in computer programming, they debated a number of possible projects.
Their favorite was a project on facial recognition technology. But the COVID-19 pandemic made that idea untenable.
"We couldn't continue with that because it required us to work with the city of Orlando and everyone and everything had pretty much shut down," said Short.
Stumped, the trio contacted their professor, Dr. Lisa Macon, for advice. Macon, who also serves as chair of the college's bachelor of applied science in computing technology and software development, suggested the trio participate in IBM's annual Call for Code Global Challenge. The IBM Call for Code is an open source project that invites software developers and problem solvers around the world to build solutions to help tackle the most pressing issues of our time.
This year, participants were urged to come up with solutions to problems including climate change and the coronavirus pandemic.  So Short, Martinez and Rislin decided to create a coronavirus dashboard for Orange County – a website where residents could find regular updates on the number of positive COVID-19 cases in the county, as well as the number of people who had passed away from the virus.
"When we started, we didn't really see any COVID dashboards," says Martinez. "As time progressed, we saw more dashboards. Our class started in May, so we only had 12 weeks to complete something… a dashboard is challenging but easy enough to complete in that amount of time."
The project also allowed them to incorporate information they'd learned in another class – data mining – and they were surprised at how easily they found information for all of Florida's counties, not just Orange.
"Everything meshed together with our other class. Professor (Jerry) Reed was focused on collecting data and engineering, so everything we were doing to create the dashboard fit together with that class," says Rislin. "Originally, we had just planned to do a dashboard for Orange County and then we included statewide data for all the counties."
Although the idea of a semester-long, capstone project – instead of weekly assignments – was a little daunting, the COVID dashboard turned out better than they imagined.
"It worked out way better than I had hoped," says Short. "There's a lot of information available online, resources that we were able to use to construct our own dashboard. When we started, I thought we got in over our head – we were originally going to do a dashboard for just Orange and Osceola counties. But  we figured out a way to scale it to include all 67 counties in Florida."
What's next for these software graduates – who earned their bachelor's degrees in August?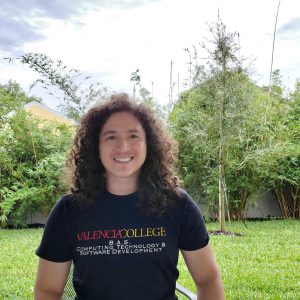 Martinez, who's 28, works for consulting giant Deloitte as a junior software engineer, a job he landed after earning an A.S. degree in computer programming from Valencia in 2018. Working his way through school, he was happy that Valencia's bachelor's degree program was available online – so he could work full-time and finish his degree. "Working full time while also doing the degree, it helped me make connections with the applied project management aspect of the program, as well as the software development life cycle," he says.
Now Martinez wants to continue working with Deloitte, and hopes his degree, coupled with his willingness to learn, will help him become a mid-level engineer in the coming years. "Every day, I'm on Reddit or YouTube, learning something new, whether it's hardware- or software-related," he says.
Rislin, who started college at FSU before transferring to Valencia, earned his A.S. degree in computer programming and, when he realized he needed only a few more classes to earn his bachelor's degree, he signed up. Although he had a strong coding background – because at FSU, students had to code from scratch – he was intrigued that Valencia didn't demand that.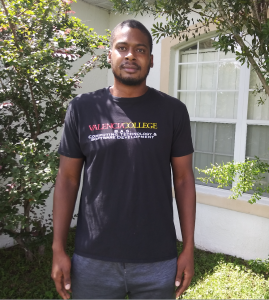 "At FSU, we weren't allowed to use any outside tools. Dr. Macon said there's no need to reinvent the wheel," Rislin says. Today, he says he'd recommend the Valencia BAS degree program to anyone. "My knowledge increased tenfold from what I'd learned at FSU. It was definitely beneficial."
Now he's looking for a job. "My true end goal is to be a game developer, but right now any employment would be good," says Rislin.
As for Short, he already has a job – at Valencia College. A first-generation college student, Short started college at Valencia, intending to earn a degree in engineering at UCF. But he couldn't quite settle on a major. So, after earning his AA in 2017 while working at Valencia's West Campus, Short decided to go into computer science "because I love gaming, and love custom building computers."
He transferred to UCF, but soon found the commute difficult and the courses heavy on theory and algorithms. When he read in Valencia's employee newsletter that college was starting an online BAS degree in software development, he signed up.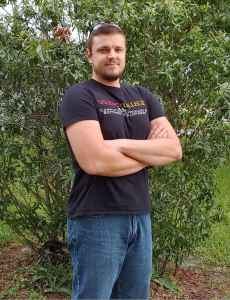 "Because the program was so new, we had no more than 10 or 12 people in each class," says Short. "And the quality of instruction was astounding. It was so much more challenging but I was given direction at every level. I was never left feeling like I was alone in the class."
Now Short is hoping to transfer from his current job– where he works as functional support specialist in Valencia's graduation and records department  – to the college's information technology team. Ultimately, however, his goal is to keep learning.
"Valencia has  a cybersecurity program that I wouldn't mind looking into," he says. "At the end of the day, you have to keep learning in this field."