Kevin Yang isn't a backup singer, but on a good workday, he's 20 feet from stardom.
From his job at the GRAMMY Museum in Los Angeles, where Kevin works as the executive assistant to the Museum's president, this Valencia grad gets to see some of the music industry's biggest stars on a regular basis.
"One of my prized photos is a picture of Dolly Parton," says Kevin, 34. "She came two years ago, when we did an exhibit  in conjunction with GRAMMY Week. She came for the exhibit opening and I have this picture of me with her and I have this big grin on my face, because it's Dolly Parton!."
The museum also operates a performance space, called the Clive Davis Theater, which seats about 200 people and regularly hosts intimate sit-down interviews and performances with artists and musicians.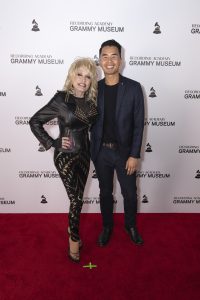 "We've had Billie Eilish, Barbra Streisand, Shawn Mendes, Taylor Swift, Kacey Musgraves. Lana Del Ray, a bunch of wonderful performers," he says. "Any time there's a program, I try to stop by the museum to see who's on stage that night. I'll stand off to the side and check out the performance. It's really amazing. They're 10 feet from you… it's something you can't get anywhere else."
Of course, when he graduated from Valencia's paralegal studies program in 2013,  Kevin wasn't thinking about the entertainment industry. He was focused on a career in the legal field.
After all, he attended the University of Florida and earned a degree in philosophy, fully intending to start law school when he graduated. But Kevin graduated from UF in 2009 – during the worst of the Great Recession – and was reluctant to take on a lot of student loan debt for law school.
So he returned  home in Orlando, and embarked on what he calls "a professional gap year." He began working as a baker during the day, and within a few months, started taking paralegal studies classes at night.
"I think a lot of my fellow Valencia students remember me as the guy who worked in a bakery," says Kevin, laughing.
His detour into baking began in college at UF, when Kevin began dabbling in baking, watching Food Network for inspiration and instruction. "I grew up in a home that didn't bake a lot," says Kevin, whose family is Vietnamese and Chinese. "My mom never used the oven. We used it for storage, mostly."
Yet Kevin's creations – ranging from cookies to soufflés — were so good that his college friends suggested he consider culinary school. He declined, but took photos of every pastry, cookie and cake he baked.
"I had a portfolio put together, even though I didn't realize that at the time," says Kevin. "When I came back to Orlando, I took it to potential employers. I told them, 'I don't have a lot of experience, but here's what I made and what I can do.' And said I'm willing to learn."
Several bakeries took a chance on him, including the Bluebird Bake Shop in Audubon Park, where he landed a job working the morning shift. But in January 2013, when he got the chance to work for a family law attorney in a one-person practice, he leaped at the opportunity.
"It was a wonderful experience. I was her only employee and it was a great way to fully understand a law firm," says Kevin, who worked there for more than two years.  But after graduation from Valencia's program, he wanted to get experience working in a different area of the law, so Kevin took a job with a large medical malpractice firm in Orlando.
"I went from working with one person to working with many people.  I got to manage many cases, working with multiple attorneys," he said. But after a while, he realized that the job didn't suit him. "The pace was insane, but I learned a lot form the experience."
Meanwhile, most of his family had moved to southern California – including his parents and his siblings. Eager to be closer to family and to see his nieces and nephews grow up, Kevin began looking for a job in California. After six months of searching, he landed a job with one of the biggest family law firms in southern California. On the job, he did what most paralegals do: drafted documents, prepared pleadings, managed files, and served as a go-between for the attorneys, clients and file clerks.
"A lot of the type of work I was doing in L.A. , I was already doing at these law firms in Orlando," he says. "The only hurdle was learning the different laws in California, plus a lot of the judicial rules and deadlines were very different from Florida."
He was happy at the firm, but two years ago, when he saw a job posting for an executive assistant to serve the then-executive director of the GRAMMYMuseum, Kevin was intrigued. "I'm the type of person who never turns down an opportunity," he says.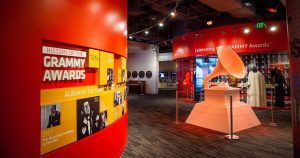 Though he had no experience as an executive assistant, he checked many of the other boxes. And his legal background came in handy – because his boss, Michael Sticka, wanted someone with a strong organizational background. Today, he's a public notary in California and serves as corporate secretary to the Museum's  Board of Directors.
Once immersed in family law and the legal field, Kevin's now learning about the world of nonprofits, philanthropic giving and museum operations, not to mention learning much of the history of the Recording Academy.
He loves the job and has some advice for other Valencia grads.
"Be open to any opportunity – especially if you're young. Everything is an opportunity. Don't put blinders on and expect certain things to work out your way. You have to be open to everything. I think that's where your greatest chance of succeeding is."