Orlando, FL – Six Valencia College students have been named top scholars to the All-Florida Academic Team.
Only 109 students statewide were selected for the team, which is comprised of high-achieving college students from the 28 state and community colleges in the Florida College System.
The students representing Valencia College are: Claudia Arbona Aguirre, Luis Lavieri, Sheri Lynch, Rita Maldonado, Sherin Mathew and Arabel Severe.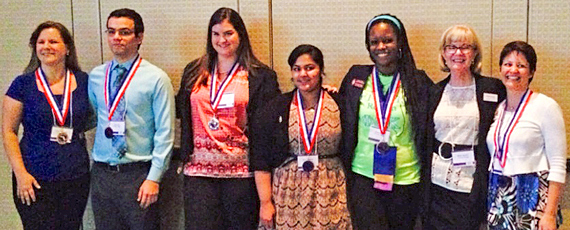 The All-Florida Academic Team recognizes outstanding students for academic achievement, leadership and service to the community. These students were also nominated to the All-USA Academic Team competition, which is sponsored by USA Today, the American Association of Community Colleges and the Phi Theta Kappa International Honor Society.
The members of the All-Florida Academic Team received the top scholar honor award during a ceremony held on April 24 at the Walt Disney World Swan and Dolphin Resort.
Phi Theta Kappa is the honor society for students attending community and two-year colleges. Membership is based on high grade point averages and other criteria, with members focusing on scholastic achievement and service to community and campus.