Last week, Dawn Nall Ginnetti took  a huge step — becoming the first member of her family to graduate from college.
The former Valencia honors student graduated from prestigious Smith College in Northampton, Mass., one of the renowned Seven Sisters women's colleges.
And though Ginnetti has moved up to the major leagues of American colleges — Smith is one of the best liberal arts colleges in the nation — she says that she could never have made it through Smith if she hadn't come to Valencia.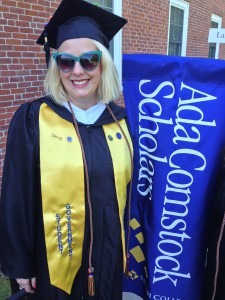 "Going to Valencia was the single best decision of my life," says Ginnetti. "I got a top-notch education at Valencia. Smith is a hard, challenging school and I have been on the dean's list every semester."
Ginnetti, who grew up in Starke, Fla., had a turbulent childhood. When she was five years old, her father was sentenced to 40 years in prison. Without a high school diploma, her mother struggled to raise her — and the family moved frequently. By the time she entered middle school, Dawn had attended seven different elementary schools.
Her high school experience was equally uninspiring. She graduated from high school without ever having written a paper. She was, she recalls, woefully unprepared for college.
So she got a job working on a cruise ship, married a co-worker and soon moved to Connecticut. When the marriage ended in 2009, Ginnetti took stock of her life — and decided to return to Florida and enroll at Valencia, 16 years after graduating from high school. Her goal? To become a high-school history teacher.
Here's a Q&A with Ginnetti.
Q. What was your first experience with Valencia?
A. I had such a wonderful experience. It was challenging, though. I had been out of the classroom for 16 years. My first semester was definitely challenging. But by the second semester, I was invited to join the honors program. That was a game-changer for me.
Q. Why?
A. I knew I was smart, but I had never had academic success.  So in the beginning, I often had a crisis of confidence, wondering if I could really do this. For me, being invited to join the honors program meant that I really could do it. And, looking back, the worst semester I've had in all four years of college was my first semester at Valencia, when I got a 3.3 GPA.
Q. How did Valencia help?
A. Valencia gave me the tools to succeed.  The two classes that prepared me for Smith were the Interdisciplinary Honors 4 course and Jackie Zuromski's Composition 2 class.
The IDH 4 class: Oh my god, that class was killer. It was my last semester and we were writing a five- to seven-page paper every two to three weeks. It was hard, but that class taught me how to buckle down and write.
And Jackie Zuromski's Comp 2 class! I still use her verb list and a lot of the things that I learned from her class. Honestly, if I hadn't gone to Valencia, I would never have gone to Smith or grad school. I made all As my first semester at Smith.
Q. Looking back, how do you rate your education at Valencia?
A. I think sometimes community college students have this belief that the education they're getting is not as good, compared to what's happening at UCF or USF. In actuality, you're better off because you get to talk to your professors.
Q.  Why did you choose to go to Smith, rather than a big state university, such as UCF or UF or USF?
A. I didn't want to go to UCF. I didn't want a large university experience. I wanted the personalized attention and I wanted a sense of community. At Valencia, I was able to connect through the honors program and the honors advisory council. I wanted that at the university level.
So I applied, as a nontraditional student, to Columbia, Mount Holyoke and Smith. Columbia lost my application three times — but I was accepted to both Smith and Mount Holyoke.
Tuition at Smith is $44,000 a year, but through the Ada Comstock Scholars program, they gave me a full scholarship for three years. Honestly, it was cheaper for me to go to Smith than it would have been for me to go to UCF.
And at Smith, we have 2,700 students. The average class size was about 20 to 25. This semester, I had a class that had eight people in it.
Q. You went to a women's college – and many people today believe that women's colleges are antiquated relics. Do you agree?
A. I went to Smith, despite the fact that it was a women's college, and then discovered it was something I desperately needed. I've never had strong women role models before. And I haven't been a part of a support network and a community of women before.
I had these very horrible, preconceived ideas of what a women's college would be like…that everyone would be catty.  But what I found was that Smith is full of amazing, intelligent, bad-ass, rebellious women. It changed my life in ways that I won't fully appreciate for years.
Q. What are your career and professional goals?
A. When I came to Smith, I said I'm going to major in history and become a community college history professor.  Instead, I was an American studies major.  In the fall, I'm going to the University of Maryland for a master's in higher education administration, with a students affairs concentration.
My goal is to go back to Valencia and work there. The work that happens at community colleges is, to me, profoundly life-changing.
I am the kid that, by all rights, according to my teachers and according to the statistics, shouldn't be getting a college education. In high school, I was told repeatedly that I wasn't college material.
What I think Valencia does and what other community colleges do… It's about the opportunity for a second chance, about the opportunity for redemption. Sometimes it takes a while for you to find your way to education — for a multitude of reasons.
What Valencia does is say: We believe in you and we're here. And we have all these resources that are available.
Q. When you began applying to graduate schools, did you list Valencia on your resume?
A. When I was interviewing at Smith and Mount Holyoke, they had heard of Valencia. And when I was interviewing at Rutgers for grad school, one of the interviewers told me there was a whole chapter about Valencia in a book that she uses.
Just like not all high schools are created equal, not all community colleges are created equal.
From personal experience, when you have Valencia on your transcripts and you've done well at Valencia, they know what kind of student they're getting — and they know you're prepared.
Of course, Valencia is on my resume! I think it shows a tenacity and an ability to rise to the challenge. .. To me, Valencia is very much a part of my educational story. It's where I began. And without Valencia, the other things wouldn't have happened.
Q. What advice would you offer to Valencia students? 
A. I think UCF is a wonderful institution, but I think Valencia students often think the state universities — UCF, USF and UF — are their only options.  There are good transfer programs out there. I became an Ada Comstock Scholar and the next year, one of my friends from Valencia came up here… and another of my Valencia friends graduated from Amherst last year.
There are these great schools that offer a lot of financial aid and they would love to have somebody from Valencia. Reach out to those places and realize that they want someone like you.
Q.  Were there ever times when you doubted yourself?
A. I think the biggest struggle is when it's 1:30 or 2 in the morning and you're trying to write a paper or an essay and you can't find the next words, the next sentence, the next paragraph. And everything in you is telling you: Give up. You're not smart enough. Give up.
Everything says give up.
There's that one voice, that one little voice, that says hang on. Push through this. Think about how good it's going to feel when you turn in that paper. Don't give up.
That's a feeling that I have faced over and over and over again.
But when you push through, the reward is just amazing. Recognize that this is hard. But listen to the voice that tells you to hang on because there's nothing sweeter than wearing that cap and gown.