Orlando – Valencia College will display "Silent Spaces," an exhibit by South Florida artist Janet Onofrey, from June 8 through Aug. 3 at Valencia's Anita S. Wooten Gallery.
The college will hold a gallery reception to open the exhibit on June 8 from 5 to 7 p.m. The artist will speak about her work at 6 p.m. Admission to the gallery is free.
Onofrey became a "plein air" or open-air painter after moving to South Florida, where, says Valencia curator Jackie Otto Miller, "her small scale works offer an intimate peek at aging apartment buildings, warehouses and corner stores tucked away and dwarfed amidst the sprawl of a modern metropolis."
With an eye to history and South Florida's changing landscape, she "documents the mauve, turquoise and pink colors of tropical architecture that speak of Caribbean influence and other cultural migrations," says Otto Miller.
Born and raised in Pittsburgh, Penn., Onofrey received her training at The Art Institute of Pittsburgh and Point Park College and then worked in the commercial art field for 15 years. Her move to South Florida in 1995 allowed her to use her graphic design and illustration skills in commercial work, but it was the sunlight and mild weather that beckoned her to work outdoors, in the open air (en plein air). She decided to focus on her own art and voice by attending Savannah College of Art and Design for her Masters in painting, which led to a painting residency in Provence, France, as well as time in Barcelona and Paris. As an adjunct professor, she teaches art at Broward College, Palm Beach State College and private lessons.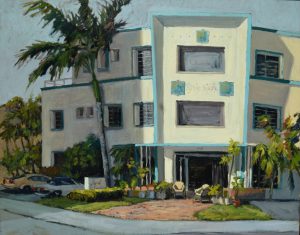 Onofrey's work has been selected for national exhibitions such as the American Impressionist Society and American Women Artists and she is a member of the Oil Painters of America and Plein Air Florida. She was featured in "New American Paintings, Juried Exhibitions-In-Print" and her paintings reside in both public and private collections nationally.
The exhibition runs through Aug. 3. Gallery hours are: Monday through Thursday from 8:30 a.m. to 4:30 p.m., and Fridays from 8 a.m. to noon.
The gallery is located in Building 3 on Valencia's East Campus, 701 N. Econlockhatchee Trail, Orlando. For more information, call 407-582-2268.