On Feb. 1, 2016, the World Health Organization (WHO) declared the Zika virus a public health issue of international concern, a designation the agency has only issued three times in its history. And here in Florida, Gov. Rick Scott has declared a health emergency regarding Zika. However, most of the Florida residents who have contracted the Zika virus got it while traveling overseas.
There is currently only one spot in Florida where mosquitoes are spreading the virus — a 10-block section of Miami.
Here's some basic information about Zika – and tips for preventing the spread of the virus.
1.) Transmission
Zika is transmitted through the bite of a mosquito species called Aedes aegypti, which is prevalent in warm, humid climates, such as South Florida. The mosquito bites during the daytime, not the evening.
Most of the U.S. cases of Zika virus infection involve people who contracted the disease while traveling abroad. However, Florida officials announced in August 2016 that as many as 14 people in South Florida have contracted the Zika virus after being bitten locally by infected mosquitoes. The infected mosquitoes appear to be confined to the Wynwood section of Miami, a 10-block area north of downtown Miami. 
More than 400 cases of Zika virus have been reported among Florida residents who contracted the virus while traveling. Of those cases, 55 involved pregnant women.
However, those 400 Floridians — and others who may not be aware that they have the virus — could result in the spread of cases in Florida. How? Because when a mosquito bites an infected person, the mosquito then carries the virus – and transmits it to the next person it bites.
2) Symptoms
Zika's symptoms can include rash, joint pains, conjunctivitis (pinkeye), headache, eye pain, vomiting and low-grade fever, and tend to subside within a week or two. However, according to the CDC, four out of five people who contract Zika do not experience any symptoms of the Zika virus.
3) Treatment
Though no treatment for the Zika virus itself exists, doctors recommend drinking plenty of fluids, resting and taking acetaminophen (sold under brand names such as Tylenol, Anacin and Feverall) to reduce pain and fevers.
Doctors advise against taking aspirin, ibuprofen and naproxen because these drugs can increase the risk of hemorrhaging if a patient has dengue fever – which has symptoms similar to Zika and is spread by the same mosquito.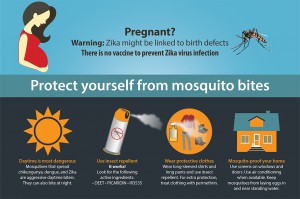 4) Prevention
The best way to prevent contracting Zika is to be vigilant against mosquito bites – by wearing long-sleeved clothing and long pants; and by using DEET or other mosquito repellents. If possible, avoid traveling to countries with active transmission of Zika, especially if pregnancy is planned, or if the person is already pregnant.
Alternative repellents such as oil of lemon eucalyptus might also work. Keep in mind the U.S. Food and Drug Administration advises that insect repellents containing DEET should not be used in infants under 2 months of age. Parents with toddlers should avoid using oil of lemon eucalyptus products on children under 3 years old.
5) Travel warnings
More than 40 countries, including most in South America and the Caribbean, are currently experiencing active transmission of Zika, according to the U.S. Centers for Disease Control. And the WHO estimates that the Zika virus will reach every country in the Western Hemisphere before the end of the year, infecting nearly 4 million people.
Though there are currently no international travel restrictions in place, the CDC has issued a travel advisory, warning pregnant women to avoid travel to those areas where the virus is rapidly spreading.
However, U.S. authorities are concerned about the spread of Zika in Puerto Rico. On Aug. 12, 2016, the U.S. government declared a public health emergency in Puerto Rico as a result of a Zika epidemic. Puerto Rico reported 1,914 new cases that week — reaching a total of 10,690 Zika cases since the first one was reported in December. The U.S. Surgeon General, Dr. Vivek Murthy, says he expects 25 percent of Puerto Rico's nearly 3.5 million people will be infected with Zika by the end of 2016.
6) Cause for concern during pregnancy
The WHO suspects a link between Zika infection during pregnancy and microcephaly in the babies of infected women. The condition results in infants born with abnormally small heads and underdeveloped brains. Because of the danger to pregnant women, on Aug. 3, 2016, all county health departments throughout the state of Florida began offering free Zika risk assessment and testing to any pregnant woman who would like to be tested.
Doctors made the link to the Zika virus last year, when thousands of cases of microcephaly were reported in Brazil, an increase of 3,900 percent from the number of cases reported in 2014.
Doctors do not know how long the virus lingers in the body after the initial infection, so doctors are advising women to avoid becoming pregnant for at least two months following Zika infection. For more details, read this advice for pregnant women or women who want to become pregnant.
Still have questions? The state of Florida has established a Zika Virus Information Hotline for Florida residents and visitors. The hotline will be managed by the Florida Department of Health, and will answer questions on the Zika virus and the state's preparedness efforts. The number for the Zika Virus Information Hotline is 855-622-6735.
For the latest information on the Zika virus, go to http://www.cdc.gov/zika/