In two action-packed years at Valencia College, international student Success Ekpenyong has made a name for himself as someone who does not waste time making a difference. However, his reputation for effecting real change almost never came to be when a lack of funds nearly brought his education to a halt. In 2016, just as he was enrolling at Valencia College, his home country of Nigeria slipped into recession, and, amidst the turmoil, Ekpenyong struggled to find the funding needed to study and live in the United States.
"My parents already took a loan for my first semester and my country was in recession," recalls Ekpenyong. "I was this close to dropping out if not for the intervention of Valencia College Foundation."
Ekpenyong received the Betty House Palmer scholarship, which helped him cover costs and avoid loan debt. In the remaining year and a half, he would take full advantage of this support, joining the Seneff Honors college and serving as president of the student government association on East Campus. Known by his peers and counselors as extremely diligent, Success could often be found at the front row of the class, as a fixture on the President's List, regularly at the whiteboard of SGA meetings, speaking persuasively behind the dais in front of college administrators, or simply moving tables and chairs at volunteer events on campus and in the community. He maintained this busy schedule all while commuting via the LYNX bus.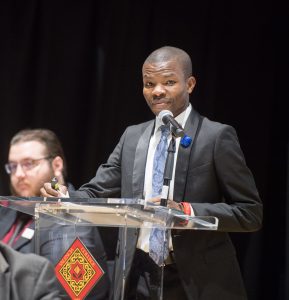 "I've never met someone so driven to serve his community and to make an impact on this world," says Deanne Abrams, an advisor to Ekpenyong. "He is determined to change the trajectory of the lives of Valencia students and to help others build the skillsets they need to be successful in their future careers.'
Ekpenyong's own trajectory takes him to the University of South Florida this fall, as he seeks a bachelor's degree in business analytics and information systems.
"My experience at Valencia has made me stronger, helped me to understand myself better and gave me a greater understanding of my purpose," says Ekpenyong. "I am not where I want to be yet, but I know too well I am not where I used to be – thanks to Valencia College."