One of the first things Varsha Sujanani will do to prepare for her new job as a Microsoft engineer is go clothes-shopping.
Not for business suits.  Instead, she'll be shopping for boots, thermal underwear and winter coats.
That's because Varsha, who graduated with a bachelor's degree in electrical engineering technology, is starting work this month for Microsoft in Fargo, N.D.
She admits that she has no idea what the winters will be like.
"My whole family's very supportive. Now they all need to go shopping for winter clothes!" she says, laughing.
She will not, however, be shopping for long underwear in Orlando. "When I was talking to the recruiter, she said, 'Your best bet is just to come to North Dakota and do your shopping here.'"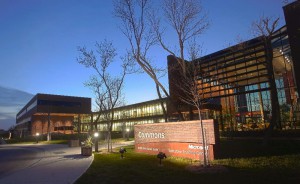 But she won't be alone in Fargo, shopping for winter clothes. There, she'll be joining another Valencia grad and classmate, Vital Cilliac, a premier field engineer who started working for Microsoft earlier this year.
"He told me I should apply for this job," says Varsha. "He said, 'You would be amazing at this job… you have people skills and you have IT skills. You'd be great at this.' "
A bumpy road to success
Varsha's road to Microsoft wasn't without a few bumps.
Although Varsha had a stellar high-school career and earned her associate in arts degree at the Osceola Campus, she transferred to UCF to study engineering. But when her father, who owns and operates a gas station in Winter Haven, was badly hurt in a car accident, Varsha had to take over the day-to-day operations of the family business.
Her mother takes care of Varsha's younger sister, who has muscular dystrophy, and after the accident, she had to help Varsha's dad recover. So the running the gas station fell to Varsha.
"For the past three years, I took over and managed the whole business. I manage inventory, customer relations, vendors," she said. "I have been able to keep the business afloat on my own… And, the ability to speak to anybody about anything, I've learned that."
But the situation was not ideal, certainly not for someone studying engineering. Indeed, her father's accident – and the resulting workload – kept her so busy that she neglected her UCF classes. Her grades plummeted.
"After my dad was in that accident, I stopped going to class. I ended up doing horribly. It wasn't my main focus," she says. "Looking back, it taught me that if you can't take on everything, you need to know to ask for help. "
Time for a change
Determined to get her life back together, she decided to leave UCF and pursue her bachelor's degree in electrical engineering technology at Valencia's West Campus.
Although she was still commuting from Winter Haven — and operating the gas station — Varsha found the atmosphere in Valencia's engineering department was welcoming.
At Valencia, she discovered that the students were learning engineering through hands-on work in labs, while at UCF, she had been learning theoretical applications of engineering. "At Valencia, I was learning the theory but also the practical application. It made me appreciate what I was learning more," says Varsha. "On top of that, since it was a very small program, we had a very personal relationship with our professors, especially important to me because of the situation I was in."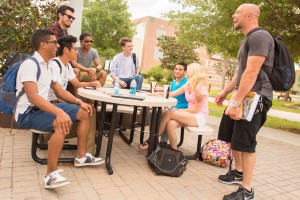 And because of the class size, she got to know all of her classmates – since they were in most of her classes. That's where she met her Microsoft colleague Cilliac, "the first friend I made at Valencia."
They were in the National Society of Black Engineers chapter at Valencia, and Varsha also belonged to the Valencia chapter of IEEE (the Institute of Electrical and Electronics Engineers). And she credits her professors, including Prof. Masood Ejaz and advisor Charles Davis, with helping her along the way.
"The whole experience at Valencia was so relaxing. Obviously the classes are hard. But your professors are there to help you out. You are so well connected to your classmates because you all have these classes together. There are 30 people, not 500 people in an auditorium. As a result, you build relationships with your classmates, with your professors," she said. "It was a better experience for me."
The job search begins
After graduating from Valencia in August, Varsha, 24, began applying for jobs. And when Cilliac suggested she apply for a job with Microsoft – where he's been promoted from support engineer to premier field engineer — she jumped at the chance. After five Skype interviews, she learned that she'd landed the job. Afterward, the Microsoft team told her she had a combination of experiences that made her ideal for the position.
One key was an internship at Orlando Utilities Commission (OUC), where last summer she shadowed and worked with one of OUC's network engineers and the company's enterprise architect, who was in the process of switching the company to a new billing software system. In addition, she'd held a one-year internship with the Toho Water Authority in the IT department.
On top of that, Varsha brought a lot of real-world experience – including retail work she'd done from ages 19 to 21 and the three years she spent running her dad's gas station.
Those experiences combined, she said, made her the ideal type of person to train small business owners on how to use Microsoft products to help their businesses.
Now she's excited about her career prospects — and grateful at how things turned out.
"Looking back, I was mad at myself at the time for what happened at UCF. But I don't think I'd be where I am today if I hadn't gone through that," says Varsha. "I think everything happens for a reason."