Molly Donahue and Faith Weber both loved baking as kids, when they worked alongside their mothers to bake cookies and cakes.
Now, poised to graduate in May 2023, the two baking and pastry students are preparing to enter the culinary world.
But their paths to Valencia – and the decision to earn a degree in baking and pastry management – were very different.
Molly knew she wanted to become a professional baker in her Tampa area high school, when she fell in love with her culinary classes. She initially planned to attend Johnson & Wales University in Miami, but when university officials decided to close that campus, Molly began investigating other culinary schools. She was accepted into the renowned Culinary Institute of America, but decided it was too expensive.
Faith, on the other hand, had already earned a degree in neuroscience at the University of Florida and was busy working in scientific labs when she realized that neuroscience wasn't fulfilling. So Faith decided to go back to something she loved: baking. Rather than earning an MBA, she decided to study the science of baking.
Both wound up pursuing their passion in Valencia College's Walt Disney World Center for Culinary Arts and Hospitality, where they now serve as co-presidents of the Culinary and Confectionary Arts Student Association.
Chance of a Lifetime
But the pinnacle of their student experience may have occurred in fall 2022 – when they were asked to travel to Washington, D.C., to help plan and decorate the gingerbread model of the U.S. Capitol that goes on display every year in the Capitol.
Construction and decoration of the gingerbread Capitol is overseen every year by the executive chef of the U.S. Capitol, Fred Johnson – who happens to be a longtime friend of Molly Donahue's father. So when Johnson learned that Molly was studying baking and pastry at Valencia, he invited her and Faith to help build and decorate the giant gingerbread concoction – a building that took 55 hours to complete.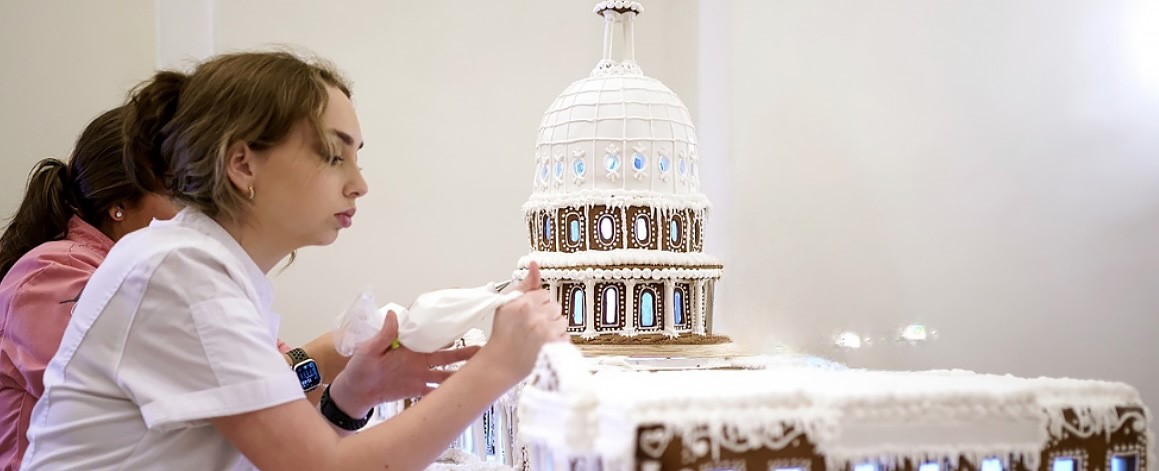 Molly and Faith traveled Washington twice to complete the project – once to handle the decoration and construction – and another trip to be there for the unveiling.
Molly said it was a wonderful experience and gave the two of them crucial experience for their future careers.
"I was mainly in charge of preparing the wooden frame, making sure gingerbread pieces fit and pouring the isomalt into windows," Molly said. (Isomalt is a sugar substitute sugar made from beet sugar and is often used by bakers to create the windows for gingerbread houses.)
While Molly managed the construction and assembly, Faith focused on the finer details such as the piping and the dome of the Capitol, harnessing the attention to detail that she uses in her own cookie business.
"We met so many amazing people and I am thankful we were able to work side by side with the executive chef," Faith said.
The experience also proved to both Molly and Faith that you can build a career bycombining your passion with hard work and dedication.
After graduation, Molly, who has been a Disney fan and an annual passholder to Disney World for years, wants to work in Disney's kitchens. (Read more about Molly's journey here.)
Faith, meanwhile, plans to focus on her business, By Faith Baking Co., which specializes in signature cookies. You can read more about her story here .
Their advice? Don't be afraid to chase your dreams. "You really have to do what you love," Molly said. "If you are passionate about culinary, find your niche and make a career out of it! I mean — dreams can come true."