From the moment Naia Kasik walks through the doors of Applied Ingenuity Diagnostics, she knows exactly what she has to do as she comes face-to-face with the COVID-19 virus. She puts on her personal protective equipment, her lab coat, glasses, gloves and an N-95 mask before she sits down to begin a series of testing procedures with RNA/DNA sequences.
Naia, a Biotechnology Laboratory Services student at Valencia's Lake Nona Campus, works on the frontline of the COVID-19 testing after her internship with Applied Ingenuity Diagnostics turned into a lab assistant role at the start of the pandemic.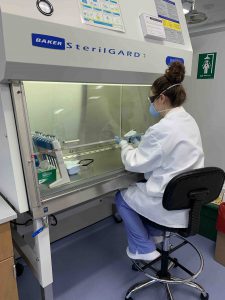 "I am very happy and fortunate to be able to work and learn about something I am passionate about," Naia said. "I am really grateful to be part of the solution to this problem, especially in the field I want to continue pursuing, and to be working with an amazing team."
When COVID-19 was declared a global pandemic in early March, millions of Americans found themselves quarantined at home in a massive national effort to reduce its transmission and save lives. What was supposed to be a week of spring break for Valencia College students, staff, and faculty to rest and recover, turned into days and weeks of uncertainty. But Naia continued to pursue her passion in this field and jumped at the chance to be part of a diagnostics team working towards solutions for our Central Florida community.
Her typical workday consists of processing patients into the lab's computer system and extracting the RNA/DNA samples needed to begin testing for this virus. The entire process includes extracting samples, uploading the information into the system, and analyzing the results with the chief laboratory and medical officer for confirmations. After this process is complete, the results are reported to the people in charge of the paperwork and sent out accordingly.
Although lab safety is the company's top priority, Naia acknowledges that there are risks to being involved and working so closely with this deadly virus. The lab's safety procedures include a thorough decontamination protocol that requires strict care with their medical scrubs, washing their hands, and spraying down their personal items with 70% alcohol.
Once her decontamination process is completed at the lab, it is safe for Naia to return back to her home and the studies that often await her from her Valencia courses. But Naia also takes it a step further in order to keep her home and family safe. After she arrives home, she avoids all contact with her family and heads straight to the shower to decontaminate one more time, "just as a precaution."
She credits her teachers from Timber Creek High School for being some of the first to truly inspire and cultivate her passion for the field, encouraging her to apply to Valencia's biotechnology program. Trusting their advice, she applied and was accepted into the program, which is based at Valencia's Lake Nona Campus.
"I wanted to join the biotechnology/biomedical field because I love medicine and science, and love to help the community," Naia said. "I am so grateful I [applied]. If I did not make that decision, I would not be where I am today."
Naia is also quick to note the support she has received from her Valencia College family as well. Naia credits Valencia graduate Desiree de Abreu for being a steady and hardworking partner in the lab alongside her, and Valencia professor Susan Ingersoll and instructional assistant Sothy Kien, who have been supportive mentors during her journey at the college. Both have encouraged her to continue her work with the lab and have been accommodating with her busy schedule.
"In my life, it is a bit of a challenge trying to balance work life and school life, but I am thankful that my co-workers and my laboratory/medical officer are very understanding. So, if I have to stay home to study for a test, it's all okay," Naia said. "I am very thankful to Professor Ingersoll and Sothy Kien. They are very understanding and patient with my new crazy schedule."
After she completes her degree at Valencia College, Naia plans to transfer to UCF, with hopes of entering the medical field to continue her research in either oncology or infectious diseases.
Her desire is to help others throughout her career, but in the meantime, she hopes her work in the labs during the pandemic makes a positive impact on our community.
"Hopefully, [our work] will encourage people who are infected to seek medical help, especially if they start experiencing severe symptoms, or it will help track the spread of the virus and prevent people who are infected from infecting their loved ones, strangers, or people who have suppressed immune systems," Naia said. "I consider myself just a small part of the solution, though. Ultimately, everyone has the power to solve, or at least slow, this pandemic through cooperation and practicing the proper precautions laid out by medical professionals. I just hope to bring some clarity to these uncertain times."