At its July 23 meeting, the Valencia College District Board of Trustees voted unanimously to re-elect Maria Grulich as its chair. Grulich serves as Osceola County's international business development director, where she assists international investors and provides VIP/diplomacy services to visitors from foreign governments.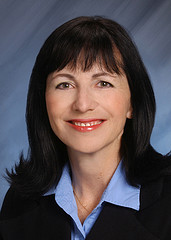 At the same meeting, the board re-elected Lew Oliver III as its vice chair. Oliver is a law partner with Quinones, Fitzgibbons, Pfister & Oliver P.L.
Valencia's nine-member governing board is appointed by the governor to direct the college's policies. Other members are Guillermo Hansen, Fernando Perez, Bruce Carlson, Daisy Lopez-Cid, Raymer Maguire III and John Crossman.
It was announced that Lucas Boyce has stepped down from the Valencia board after being appointed to the Florida A&M University board of trustees. State law prohibits trustees from serving on the boards of two colleges or universities at the same time. His departure leaves a vacant seat on Valencia's board until Gov. Rick Scott appoints a replacement.
Valencia is one the nation's largest and most recognized community colleges with 70,000 students. In 2011, Valencia won the Aspen Prize for Community College Excellence based on the strength of its graduation and transfer rates, as well as the high job placement rates of its workforce training programs. The college offers a two-year Associate in Arts program that prepares students to transfer to an upper-division college or university; technical programs and continuing education courses that prepare students to meet the needs of business and industry, and several bachelor's degree programs. Valencia operates six campuses and centers in Central Florida's Orange and Osceola counties.