When it comes to college Brain Bowl, Valencia College's coaches don't rebuild — they reload.
Once again this year,  one of Valencia's Brain Bowl teams is headed to the national championship of college quiz bowl, the 2015 Intercollegiate Championship Tournament, which will be held in Atlanta on March 28 and 29.
Valencia's Red team qualified to play at that tournament — where four Valencia players will compete against undergraduate teams from top colleges and universities, including Cornell and Stanford — by finishing in the top four at the recent National Academic Quiz Tournaments (NAQT) Community College Championship Tournament, which was held in Atlanta on February 27 and 28.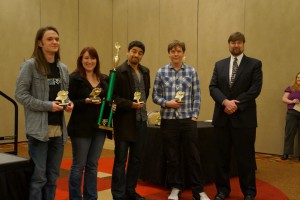 "We're excited to have qualified for our 14th-straight Intercollegiate Tournament," said Valencia English professor Chris Borglum, who serves as one of the team's two coaches, along with math professor Damion Hammock. "We're the only community college team in the country to have done so. It's a testament to how hard our players work every year."
In a 24-team tournament featuring community college teams from around the country, both Valencia teams finished in the top bracket of eight teams. Valencia's Red team finished second, losing the championship match to State College of Florida, 415-195. The Black team took seventh overall. This is the second consecutive year Valencia has placed two teams in the top bracket.
Valencia student Cassandra Logan, who earlier in the season became the first female player to ever win an entire tournament playing by herself, was the top individual scorer in the nation, averaging 81 points per game (meaning she answered over 1/3 of the questions she heard while competing against seven other players). She is the first female player to be the top scorer at a NAQT national tournament.
In addition, Valencia student Jen Smith, captain of the Black team, finished 11th overall in individual scoring out of 116 total players. NAQT gives out awards to the top 12 scorers.
Florida is a hotbed of college quiz bowl action. Eight of the top 10 teams in the national tournament were from Florida state or community colleges.
"We're really proud of the whole team, but it's especially nice to be the team that helped the first female player be a top scorer," said Hammock. "Of course, we're losing her to UCF, so we hope faculty will help spread the word about the team. We're going to need some new players next year."