Valencia College invites movie fans to celebrate 25 years of student filmmaking when the Valencia College film production technology program holds its 25th Annual Film Celebration on Feb. 15.
The one-day event – which is both a showcase of student films and a fundraiser for the film program — gives movie buffs, as well as current and former students, the chance to watch short films produced by current Valencia College film students, and learn some of the technical aspects of filmmaking in short workshops held between screenings.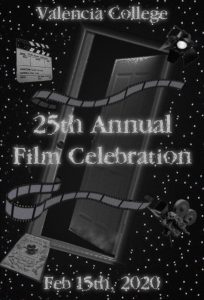 "Valencia College offers students the unique opportunity to collaborate on professional productions," said Eric Fleming, chair of Valencia's film production technology program. "The Film Celebration is also a wonderful chance to honor the work of previous classes and support indie filmmaking in Central Florida."
Throughout the day, film students will be selling commemorative film celebration shirts, popcorn and other treats at concession stands. All proceeds from the film celebration will be used to fund students' final short film projects.
This year's celebration will culminate with the 7:45 p.m. showing of "The First of May," a feature film that Valencia students worked on in 1999, which starred Mickey Rooney ("Breakfast at Tiffany's", "Babes in Arms"), Julie Harris ("East of Eden, "Gorillas in the Mist"), baseball legend Joe DiMaggio and Dan Byrd ("Easy A," "A Cinderella Story," "Cougar Town").
In the film, which was directed by former Florida film commissioner Paul Sirmons, 11-year-old Cory (Dan Byrd) runs away from his foster parents and meets Carlotta (Julie Harris), a feisty lady fleeing her nursing home. The two team up and decide to chase their common dream of joining the circus. They track down a traveling show run by frenetic boss Ed (Mickey Rooney) and are shown the ropes by wise clown Dinghy (Charles Nelson Reilly). By entertaining others, they find the love they had been missing.
Doors open at 12:30 p.m. at the School of Arts & Entertainment on Valencia College's East Campus, 701 N. Econlockhatchee Trail, Orlando.
Tickets are $12 for general admission; and $10 for non-Valencia College students with a current ID, as well as senior citizens and members of the military. Valencia College students with an ID will be admitted free.
For more information and to purchase tickets please visit:
http://www.valenciafilmcelebration.com/
www.facebook.com/ValenciaCFilmCelebration/
Schedule for the 25th Annual Film Celebration:
12:30 p.m.     Doors open
1 p.m.             Shorts Block 1 (followed by Q&A with filmmakers)
"Moving Bodies"                                           Directed by Danny Nilsson
"BFE: Best Friends Ever"                           Directed by Mario Ramirez
"Valentine"                                                    Directed by Ricky Ortiz
"Hazel, Ruby and Violet Don't Kill A Guy" Directed by Kim Cobb
"Washed Out"                                               Directed by Brandon Vasquez
"When the Smoke Fumes"                         Directed by Thomas Zelios
3 p.m.             Film Workshops for Audiences
 Lights, Camera, Slate
Get equipped with the importance of the slate (often referred to as clapper) and have the opportunity to use it.
Getting Focused!
Learn what the term "pulling focus" means for the camera and get a chance to practice the art form.
Boom in the Shot
Hear how professionals capture good sound and how to operate a boom mic on set.
5 p.m.             Valencia Film Alumni Appreciation gathering
6:30 p.m.       Shorts Block 2
"From Heart to Pen"                    Directed by Anthony Canet
"The Radio"                                   Directed by Destin Dern
"Deliver to Evil"                              Directed by Matthew Weber
"Jeannie Becomes Star"               Directed by Griffin Landis
"Sleight of Hand"                           Directed by Natasha Danielson
7:30 p.m.        Intermission
7:45 p.m.        Feature Film: "The First of May"
9:45 p.m.        Q&A with Short Film and "The First of May" Filmmakers