Valencia College celebrated the inaugural graduation for students in the college's new bachelor's degree in nursing program on Dec. 11, as 32 students walked across the stage,
"This is truly an exciting event, not just for our graduates, but for our community health-care partners, and our faculty and staff," said Barbara Ake, dean of Valencia College's nursing program.
Of the 32 graduates, 28 earned their associate in science degree in nursing from Valencia — and returned to Valencia to earn their bachelor's degrees in nursing (BSN).
Valencia's ASN-to-BSN degree program started admitting students in the summer of 2018, but planning for the program began in 2016, when Orlando Health, Florida Hospital, UCF and three other local state colleges met to address the critical shortage of nurses in the region. Along with similar degree programs being offered at Seminole State, Lake-Sumter State and Eastern Florida State colleges, the schools expect to train more than 6,500 nurses at the BSN level by 2023.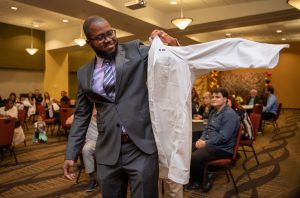 "To the students graduating tonight, congratulations. You've earned that credential and now you're a catalyst for change," said Falecia Williams, president of Valencia's West and Downtown campuses, as she addressed the crowd of graduates and their families. "Your mission will be to provide quality health care in our community."
To celebrate, the new graduates walked across the stage and then donned their new white coats — symbolic of professionalism and compassionate care.
The "white coat ceremony," which nursing programs have adapted from medical schools, is given to nurses when they earn their bachelor's degrees in nursing. By contrast, medical students receive their white coats upon admission to medical school.
The graduating class included students like Michelle Duncan, who earned her ASN from Valencia in 2015 and immediately landed a job with Orlando Health, working in the surgical oncology unit. Today, she's working at Orlando Health's South Lake Hospital in the surgical unit and looking forward to new challenges.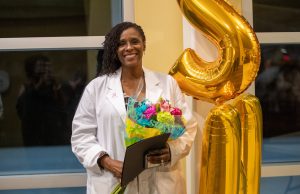 "I love working in surgery. It's so fast-paced and you see and learn so many different things," said Duncan, who earned all As in her bachelor's degree and associate's degree coursework.
But her educational journey may not be over.
"I've been looking at some MSN programs, because I want to teach," Duncan said. "I want to come back to Valencia to teach – that's my ultimate goal."