With the early phases of construction already underway, Valencia College held a groundbreaking ceremony for a new $27 million campus in Poinciana on Thursday, May 19. The Poinciana Campus will open up opportunities for many who may not be able to attend classes at the college's Osceola Campus, which takes two-and-a-half hours to reach by bus and 45 minutes by car.
The campus is scheduled to open in the fall of 2017, and is projected to serve approximately 2,500 degree-seeking students, as well an additional 1,000 students seeking job training.
"Imagine how different the future will be when students from Poinciana only have to spend 15 minutes on the bus, instead of five hours," said Kathleen Plinske, president of Valencia's Poinciana, Osceola and Lake Nona campuses. "Imagine how many more of our students will be able to pursue a college education when a campus is in their backyard."
Currently, students from Poinciana's two high schools — Liberty High School and Poinciana High School — are far less likely to attend college than their peers throughout Central Florida. To remedy that — and provide career-training opportunities for Poinciana residents of all ages — Valencia leaders have been eyeing a possible Poinciana Campus since 2003.
Located at the intersection of Pleasant Hill and Reaves roads, the new campus will sit on 19 acres of land donated by Osceola County.
However, it was the united efforts of state legislators, county leaders, community partners and college officials that provided the momentum needed to make the new campus a reality. "The county's donation of the land helped spark this development," said Sandy Shugart, president of Valencia College, noting that Osceola County Commissioner Brandon Arrington and County Manager Don Fisher were instrumental in getting land for the campus. "I would also like to thank the Osceola County legislative delegation, who worked tirelessly to ensure that the funds necessary to construct the campus were brought home to Osceola County over the last several years.  My special thanks to Rep. Mike La Rosa and Sen. Darren Soto for their leadership in securing funding for this essential project. And finally, it is important to recognize the leadership of Gov. Scott.  He and his staff saw the vision for this project early on and supported funding for this new campus for three straight years in the state budget."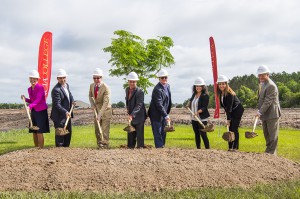 Arrington, who represents Poinciana on the county commission, told about driving into the Liberty High School student parking lot five years ago while mentoring a high-school student, and discovering only 12 cars in the student parking lot. He realized that the students in Poinciana didn't have cars — which left them few options for jobs and for college educations.  Inspired, he asked county officials to rethink plans for a regional park on the site — and pushed to donate land to Valencia College for a new campus.
The new Poinciana Campus will change lives and prospects for Osceola County residents, added Arrington, who choked up as he spoke. "To change the economic and education patterns of District 3  — and also to lift the entire workforce and change the economic development partners of our entire county — is an amazing feat," Arrington said.
With the land donated, Rep. Mike La Rosa (R-Osceola)  and Sen. Darren Soto (D-Osceola) spent three years cajoling legislators in Tallahassee. At the groundbreaking, both men were ebullient.  "Behind us, I see a field of dreams," said Soto. "I see the opportunity for new entrepreneurs for Poinciana, for new job training for students, to take on the challenges of a new generation."
For students who live in Poinciana, just getting to class has been one of the greatest challenges in college. Valencia student Stacy Bernabel noted that it takes her 45 minutes to drive to Valencia's Kissimmee campus and an hour and a half to get to Valencia's West Campus for her hospitality classes — and her car has broken down several times. The new campus, she says, will change all that for future Valencia students. "Our parents will be able to go to college, and we can go to college," Bernabel said. "Now there's no excuse for us to say we can't go to school."
DLR Group is the architectural firm for the project and Clancy & Theys is the construction manager. Once complete, the campus will house 11 classrooms, two computer labs, a science lab and a culinary teaching kitchen. Other architectural features in the 65,000-square-foot building will include:
· An indoor/outdoor cafe area
· Native landscaping including Poinciana trees
· A two-story campus library with multiple settings for studying, group collaboration and tutoring. The library will be elevated into a "treehouse" concept to overlook the Poinciana trees in the courtyard to the west and the natural conservation to the east.