Valencia College's Alumni Association, in partnership with the Rotary Club of Lake Nona, will hold a 5K race and 2.5K fun run on Friday, Sept. 5, to raise money for scholarships for first responders.
The Valencia College Run/Walk for Heroes will start at 6:30 p.m. at the college's Osceola Campus, located at Denn John Lane in Kissimmee.
The race will be one of several college events held to commemorate Sept. 11, 2001. The race will take place against a backdrop of nearly 3,000 flags that have been erected in memory of the victims of the Sept. 11 terrorist attacks.
Everyone is invited to participate – runners, walkers, wheelchair athletes and children. Awards will be given to those who place in their age division, as well as overall awards.
The entry fee is $25 for participants who sign up before Aug. 30; $30 for runners who sign up between Sept. 1 and Sept. 4; and $35 on race day. For Valencia students, alumni and retirees, the registration fee is $20 before Sept. 4 and $35 on race day.
Participants may pick up their race packets, which include race numbers, timing chips and T-shirts, at Valencia's Osceola Campus on Thursday, Sept. 4, from 4 to 7 p.m. in Building 4. Packets will also be available for pickup on race day, starting at 5 p.m.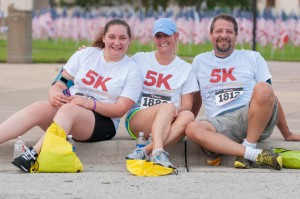 Awards will be given in age-group categories and for overall top male and female finishers, as well as top male and female finishers in the masters division. The event will be chip-timed, as will the 2.5K race. No awards will be given for the 2.5K race.
All proceeds will go toward the Rotary Club of Lake Nona's Sept. 11 Memorial Fund to support Valencia scholarships for emergency responders.
For safety reasons, in-line skates, bicycles and pets will not be allowed on the race course. Headphones are discouraged. Baby joggers are welcome. All participants pushing a baby-jogger or stroller will be asked to start at the back of the starting pack.
To register, go to http://racetimesports.com/valencia-college-family-run-and-walk-for-heroes