Tanika Bango has been named director of community engagement for the new campus that Valencia College and the University of Central Florida will open in August 2019 in downtown Orlando.
The newly created position is part of an effort by both schools to prioritize the needs of the Parramore community and provide educational opportunities for residents.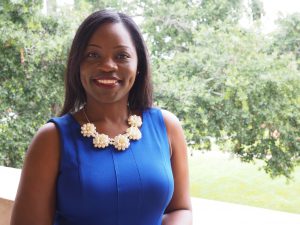 As director of community engagement, Bango will build on ongoing efforts to foster relationships with community leaders in Parramore and surrounding neighborhoods, plan community events for the downtown campus and coordinate the work of the Parramore Community Engagement Council. In 2016, the council was established by Valencia, UCF, the city of Orlando, and local residents and businesses, to improve the quality of life in Parramore by focusing on five key areas: jobs, health, education, safety and affordable housing.
Bango brings more than 10 years of experience in community and government service, both as chief of staff for Orlando City Commissioner Regina Hill (who represents Parramore) and as an aide in the Florida Senate. Born and raised in Orlando, Bango earned a bachelor's degree in business administration from Edward Waters College in Jacksonville and a law degree from Barry University.
"I'm very pleased that Tanika will be joining our downtown campus team," said Eugene Jones, executive director of Valencia's Downtown Campus. "She brings a wealth of community experience plus city and state government knowledge. She'll be a great asset as Valencia and UCF continue to expand our partnership in the Parramore community and beyond."
"The downtown campus presents us with a unique opportunity to redefine how communities and higher education interact and learn from one another," said Thad Seymour Jr., vice president for partnerships and chief innovation officer. "Tanika's role will be critical in helping us further build on our relationships with the community and ensure continued collaboration and successful implementation of our joint vision."
In addition to the Parramore Community Engagement Council, UCF and Valencia are engaged with one of Orange County's newest K-8 schools in the Parramore community. The OCPS Academic Center for Excellence is a Community Partnership School, which pairs the school with Valencia, UCF, Children's Home Society of Florida and other organizations to provide wraparound services, including health and dental care, for its students. The partnership also affords OCPS ACE students who later graduate from Jones High School in downtown Orlando and are admitted into a state college or university with a scholarship from Harris Rosen that covers 100 percent of college expenses.