Orlando, FL – On Sunday, May 6, more than 1,700 Valencia College students will receive their associate degrees when Valencia College holds its 49th spring commencement ceremonies at the University of Central Florida's CFE Arena.
Valencia will hold two ceremonies on May 6. The first will begin at 10 a.m., with the processional beginning at 9:40 a.m. The afternoon ceremony will begin at 2 p.m.; the processional will begin at 1:40 p.m.
This year's commencement address will be given by Jehojada Merilan, who was named the Mary Smedley Collier Distinguished Graduate by the Valencia Alumni Association.
Merilan, whose older brother and twin sister graduated from the University of Florida, was himself an unremarkable student during high school. But at Valencia, he found his path – and became an honors student and a student leader, and is transferring to the University of Central Florida with the goal of majoring in international relations.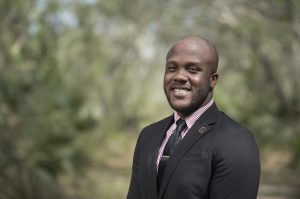 "I want to be a part of a national or global effort to make lives better, and I know that's something I can do through foreign service," says Merilan.
Although about 1,700 students are participating in this year's commencement ceremonies, approximately 8,000 students were awarded degrees within the past year.
In addition to associate degrees, 85 students have earned their bachelor's degrees from Valencia College in the past year. Valencia College began offering bachelor's degrees in 2011 and currently offers bachelor's degrees in three programs: electrical and computer engineering technology; radiologic and imaging sciences; and cardiopulmonary sciences.
The ceremony will be streamed live on the internet and can be viewed on the Valencia College graduation website .  A recorded version will also be available online a week after the ceremony.