Valencia College, in partnership with the University of Central Florida, will move downtown next summer, opening the doors to a new campus that will serve 7,700 students and provide opportunities to the residents of the Parramore neighborhood.
Classes will begin on Aug. 26, 2019.
The campus will serve as the anchor of Creative Village, the city of Orlando's $1 billion public-private partnership. The campus location ⏤ which is close to the Orange County Courthouse, FAMU College of Law, Orlando City Hall and the downtown business district ⏤ will provide students with opportunities for jobs and internships.
[sws_button class="" size="sws_btn_large" align="sws_btn_align_center" href="https://www.facebook.com/pg/valenciadowntown/photos/?tab=album&album_id=2191228037823426″ target="_blank" label="View Photo Album" template="sws_btn_default" textcolor="" bgcolor="" bgcolorhover="" glow="sws_btn_glow"] [/sws_button]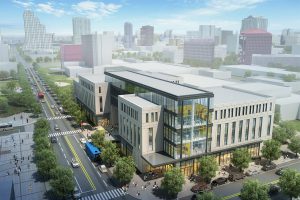 Here are some of the changes to come:
Valencia College will offer core general education class for students at the freshman and sophomore level. By offering the first two years of general education at Valencia, students on the new shared downtown campus will save approximately $6,000 while earning a bachelor's degree.
In addition to the Associate in Arts (A.A.) degree, Valencia College Downtown will offer two-year degree programs in digital media; health information technology; new media communication; culinary; and hospitality and tourism management.
The primary academic building will be the Dr. Phillips Academic Commons, a four-story building that will feature classrooms, faculty offices, a library and a moot court room ⏤ facilities that will be shared by UCF and Valencia. A glass bridge will connect the two wings of the building.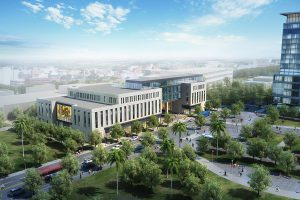 UnionWest at Creative Village, which will be located across the street from the Dr. Phillips Academic Commons, will have 600 beds of student housing, a parking garage, health and recreation center and shared space for student support services, such as advising and financial aid. The building is being constructed by Ustler Development and DEVEN as part of Creative Village's public-private partnership.
UnionWest will provide the only housing option in downtown Orlando that is open exclusively to UCF and Valencia students. Multiple floor plans will be available. Valencia College will open its housing applications for UnionWest in October 2018, with students moving in by August 2019.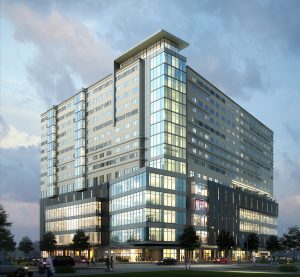 UnionWest will also feature The Collaborate, an outdoor patio overlooking downtown Orlando, which will be located on the sixth floor of the UnionWest building.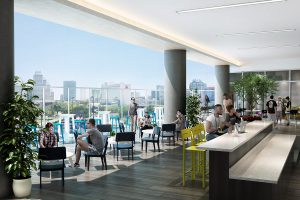 Valencia's culinary and hospitality programs will move into three floors of the 15-story UnionWest building, where the larger space can accommodate continued growth in one of the region's banner industries.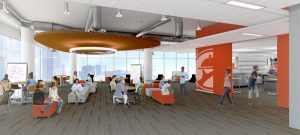 The culinary program will feature cutting-edge equipment, including a demo kitchen, where students will learn to produce cooking videos and television demonstrations, and a beverage lab.
From the beginning, Valencia College leaders have met with residents of the Parramore community to plan a campus that will provide not just an education to residents, but an opportunity to change the future of the community through workforce programs and skills training. In 2016, Valencia College leaders launched the Parramore Community Engagement Council, along with UCF, the city of Orlando, Orange County Public Schools and members of the Parramore business and faith communities.
Thanks to a $2.3 million state grant, Valencia College plans to open a Center for Accelerated Training near the downtown campus. The facility will offer short-term job training programs ⏤ which can be completed in less than a year ⏤ in electronic board assembly, mechatronics and transportation logistics, all skills in high demand in Central Florida.
"The real measure of a college or university isn't defined by its buildings, but how well it serves those within them," said Sandy Shugart, president of Valencia College. "We're determined to make a difference in the life of this community."
---
To stay abreast of what Valencia College is doing in downtown Orlando, please follow the Valencia College Downtown Campus Facebook page.