For those of us who've shopped the aisles of a Target, it's easy to take the fully-stocked shelves for granted. Valencia College graduate Javier Grisales – who will, in March, enter his fourth year with the major national retailer – knows that a sparkling, abundant row of product doesn't just happen. As the general merchandise leader at the Super Target nestled in Orlando's burgeoning SoDo district, Grisales, at age 25, is in charge of the store's logistics – and more than 30 employees who handle a truckload of goods each day. Overseeing a well-oiled machine – from loading bay to stockroom to shelve to cart to register – he never takes a fully-stocked aisle for granted. It's such a priority, says the graduate of Valencia College and the University of Florida, that the ideal of well-stocked shelves has bled into his time off.
"I can't watch movie scenes filmed in stores without judging their shelves," he says with a chuckle after surveying the paper aisle.
Grisales began working as an intern at Target in 2015, shortly after receiving his bachelor's degree in business marketing from UF. Just a few short years before he joined the corporate world, he was a dually-enrolled high school student in Kissimmee, attending Professional and Technical High School (PATH) and Technical Education Center Osceola (TECO) in the day and the Valencia College in the afternoon. At that time, he was working nights at Best Buy, still unsure of what he would do after high school. Coming from a low-income family, the prospect of immediately entering the workforce seemed attractive to the young Grisales. But his father reminded him to keep a focused eye on education. Struggling to choose between music production and business education, he learned that Valencia College offered both.
Grisales took full advantage of all that Valencia had to offer, pursuing an Associate in Science in sound and music technology, as well as his Associate in Arts degree with a focus on business. Outside of the classroom, he participated in several clubs including the Valencia Volunteers. While he ultimately chose the path of business, the music and sound technology program left an indelible mark in Grisales' mind. One assignment, from program chair Raul Valery, tasked students with going out into the community to enlist a band that could record in Valencia College's sound studio on East Campus. While wondering how he could accomplish such a feat while barely out of high school, Grisales was having lunch with his father on Father's Day when he stumbled upon a salsa band, who he would invite to record on East Campus. Interacting with the working musicians and bringing a project to fruition left a lasting impact on him.
"The biggest thing I carry from the music program is you have to stay hungry," says Grisales. "If you're not practicing daily and trying to improve, you lose the momentum. I carry that same ambition in my daily work now."
As Grisales walks the aisles of Super Target in SoDo (the district south of downtown Orlando), the continued momentum is apparent. He and the staff members seamlessly transition between light-hearted small talk and the business of keeping shelves stocked and product moving out the door via the register. Grisales knows the pain of seeing items "walk out" through other means. He began working at Target in the asset protection department, which led to the occasional chase. Before long, Grisales' supervisors promoted him to general merchandise leader – and with that came a shift in process and culture.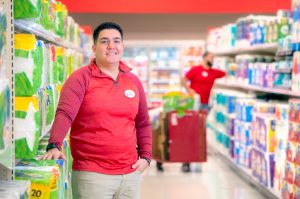 At the time of his promotion, Grisales noticed staff were not motivated to keep the shelves fully stocked and workflows moving in a timely fashion. Key team members were "rolling" several pallets each night, he says, meaning a substantial portion of the daily truckload would roll over into the next day's work.
"I started by suggesting that two people, instead of one, unload the truck at a given time. From there, I did whatever I could to promote a sense of urgency," says Grisales. "Little by little, things started to fall in to place. We were falling behind less and less, and team morale began to improve as truckloads would get fully processed each day…Now it's like a joke, someone will say 'Eh, I'm just going to leave this for tomorrow,' and then we all have a good laugh."
It's a practice that certainly pays off in the holiday season – or the fourth quarter, as retailers sometimes refer to it. When the truckloads triple and online orders skyrocket, Grisales is unphased by the uptick. And what about the poorly-stocked shelves that sometimes slip into frame on the silver screen? Well, they remain a thing of fiction at the Super Target in SoDo.
"Yes, it can be exhausting. You can definitely lose a little sleep worrying about the holiday rush, but when you put in the work beforehand and things go like they're supposed to, it's a pretty good feeling," says Grisales. "Proper preparation prevents poor performance as my high school teacher Mr. Sullivan used to tell me."
It's a forward and positive way of thinking, not unlike what his father instilled in him at the outset of his educational journey. After three years of gainful employment, and building on lessons learned in college, Grisales has not only helped his parents purchase a house in Osceola County, he now has a home of his own – just a stone's throw from the Florida Mall. For those weighing the options of life after high school, he has some advice: "A lot of people look at Valencia College as a small stepping stone – or not even worth the time – but you can really benefit from it."