Orlando, FL – Eugene Jones II, a veteran college administrator with broad experience in workforce learning and outreach to disadvantaged communities, has been named the new executive dean for Valencia College's downtown campus.
Prior to joining Valencia, Jones served as associate vice president for baccalaureate and workforce programs at Lake-Sumter State College. He has also served as dean of the engineering and information technology programs at Broward College in south Florida, and as director of information technology education at Santa Fe College in Gainesville.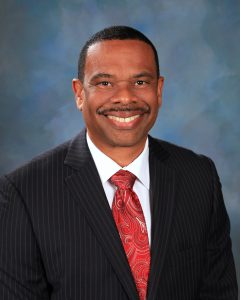 While in Gainesville, Jones also served as executive director of My Brother's Keeper, a mentoring program for young African-American men at Santa Fe College. He also served as chairman of the East Gainesville Initiative, where he worked with government officials and business partners to provide computer access and education programs to the residents of East Gainesville.
Jones, a Florida native, earned an associate in science degree in computer technology from Santa Fe College. He then went on to the University of Florida, where he completed his bachelor's degree in computer science, a master's degree in workforce education and a doctorate in higher education administration and policy.
He will serve as the lead administrator for Valencia operations at the downtown campus that Valencia will share with the University of Central Florida.
The UCF-Valencia downtown campus is scheduled to open for classes in 2019. College officials expect the campus to serve 7,700 students from both institutions. Valencia expects 2,300 students to enroll in its courses downtown.
In addition to freshman- and sophomore-level general studies courses, Valencia will offer programs in digital media, health information technology and culinary and hospitality, including workforce training and other certificates to increase access to education in the immediate area.
One of the foremost goals for Valencia is to improve the lives of the citizens of Parramore by offering programs and services that will provide significant benefit, including helping people become quickly employable and raising the level of entrepreneurship.
Valencia plans to bring accelerated skills training downtown, providing short-term courses in advanced manufacturing, construction, IT coding, healthcare and public service.