Orlando, FL – While everyone is busy making New Year's resolutions, Valencia College is already hard at work on a host of new programs that will roll out in 2018.
At Valencia College – which serves more than 75,000 students at six campuses in Orange and Osceola counties – a number of new programs are launching in the coming months, including a bachelor's degree in nursing, a new bachelor's degree in business and an associate's degree in residential property management.
At the Osceola Campus, the college's new two-year degree in residential property management will launch on Jan. 8, 2018 and will train students for careers as property managers, certified apartment managers  and operations managers. Developed with guidance from leaders in the residential property management field, Valencia's new degree program has been endorsed by the National Apartment Association's Education Institute, as well as the Apartment Association of Greater Orlando. For more information, visit:  https://net1.valenciacollege.edu/future-students/degree-options/associates/residential-property-management/
In May 2018, Valencia will launch its first bachelor's degree in business. The new Bachelor of Applied Science in Business and Organizational Leadership will give students who already have an associate's degree the opportunity to earn a bachelor's degree with a focus on supervision and management. The degree program, which will be based at Valencia's West Campus, was designed with help from local business leaders and University of Central Florida officials.
Starting in August 2018, Valencia will begin offering a bachelor of science in nursing degree. The new degree program – which will be offered primarily online ­– is aimed at nurses who already have an Associate in Science nursing degree, but want to remain on the job while pursuing a bachelor's degree in nursing.
For more information about enrolling at Valencia, please visit www.valenciacollege.edu/enroll
With more than six million jobs unfilled because of the nation's skills gap, Valencia will open a Center for Accelerated Training at the Osceola Campus in Kissimmee, bringing a number of short-term training programs to the campus. The new facility will house: a nine-week program in heavy construction equipment operation; a six-week basic construction skills course; and training for students interested in working in the private security field. Other short-term training courses will be offered on a rotating basis.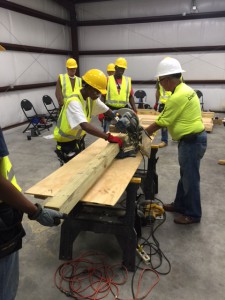 Valencia College opened a Center for Accelerated Training at the Poinciana Campus in August 2017, where the college offers continuing education courses in English as a Second Language (ESOL), Spanish, electronic board assembly and private security guard training. Upcoming courses include: basic construction, medical assisting, warehouse packaging and transportation logistics.
Valencia also plans to open a Center for Accelerated Training in 2018 near the site of the UCF-Valencia downtown campus, which is slated to open in 2019. The college plans to offer a wide range of short-term training programs there, including basic construction courses and electronic board assembly.