Orlando, FL – The Valencia College Theater will present "The Seven Year Itch" in the college's Black Box Theater Feb. 17 through Feb. 26.
This 1950's-era romantic-comedy tells the hilarious tale of a husband whose wife and child have gone to their summer home, where he will meet them on weekends. During the week, he is staying in their city apartment. But when a beautiful single neighbor moves in, his vivid imagination takes over and a series of innocent events result in a rollicking comedy.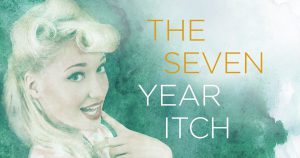 Most Americans are familiar with the 1955 Billy Wilder film version, featuring the iconic photo of Marilyn Monroe standing above a subway grate. But the play, written by George Axelrod, is significantly different and was a hit on Broadway, running for almost three years.
This production, directed by Eric Pinder, is also a salute to the past. In this, Valencia's 50th year, the college is staging a play that the Valencia theater department first produced 25 years ago.
Performances will be held on Feb. 17-20 and Feb. 24-26. All performances will begin at 7:30 p.m., except on Sundays, Feb. 19 and 26, when the show begins at 2 p.m.
Tickets are $12 for general admission and $10 for students, alumni, staff and seniors. To purchase tickets, click here. Use the promo code "VALENCIAWEB" to receive $2 off each ticket.
Tickets and more information are also available by calling the college box office at 407-582-2900
AUDIENCE MEMBERS: Please note that due to the intimate setting of the Black Box Theater, late seating cannot be accommodated. Please arrive at least 15 minutes prior to show time.
WHAT:         "The Seven Year Itch"
WHO:           The Valencia College Theater
Directed by Eric Pinder
WHEN:        Feb. 17, 18, 20, 24 & 25 at 7:30 p.m.
Feb. 19 & 26 at 2 p.m.
WHERE:      Valencia College East Campus, Black Box Theater (Bldg. 3)
701 N. Econlockhatchee Trail, Orlando, FL.
TICKETS:    $12 general admission
$10 for Valencia students, faculty, staff and senior citizens
Box Office: 407-582-2900
Online: www.valenciacollege.edu/arts