What does it feel like to be discriminated against? That's the question at the heart of "Conscious Voices," a play that debuts at Valencia College's Performing Arts Center on April 1 and runs through April 9.
Creator Sonia Pasqual, a Valencia College professor who teaches lighting design and live entertainment design, began working on the play in the aftermath of George Floyd's death and Black Lives Matter protests. In the weeks after those events, she reached out to friends and colleagues with one simple question – what does it feel like to be discriminated against?
Her goal was to capture the voices of people who face discrimination every day – and how that steady drumbeat of discrimination wears them down. Together, their narratives became the voices of black men and women, women of color, non-binary people , transgender persons, and people who battle fat phobia and body-image bias.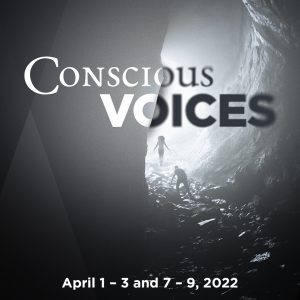 The result, "Conscious Voices," is a piece of collaborative, experimental theater that has made history in its own way. "Conscious Voices" was the first play written by a black woman to be performed at the Annie Russell Theater in the theater's 99-year history, according to Rollins College theater officials.
Now the play will be performed at Valencia College's Performing Arts Center with a new cast and the original collaborators – whose votes are all incorporated in the play's narrative.
The play's message, says Pasqual, is simple but affirming. "Your energy is precious," she said. "You're not obliged to give it to anything or everyone. Live free, it is your birthright. Live free from those prisons of this world. Nothing should be allowed to have power over you."
Performances will be held April 1, 2, 7, 8 and 9 at 7:30 p.m., with a 2 p.m. matinee on Sunday, April 3. There will be an American Sign Language (ASL) interpreted performance on April 9.
General admission tickets cost $12. Senior citizens, Valencia faculty, staff and students may purchase tickets for $10. Tickets can be purchased online at http://valenciacollege.edu/arts.
Tickets and more information are also available by calling the college box office at 407-582-2900.