Orlando, FL – The Valencia College Theater will present "The Miracle Worker" in the college's Black Box Theater Feb. 16 through Feb. 25.
The three-act play, written by William Gibson, is based on Helen Keller's autobiography and details how governess and teacher Annie Sullivan changed Keller's life. Born blind and deaf, Keller was spoiled by her parents and by the age of six was a wild, tantrum-prone child. Sullivan diligently teaches Keller the sign language alphabet that open the world to the child – a breakthrough that made Sullivan a "miracle worker."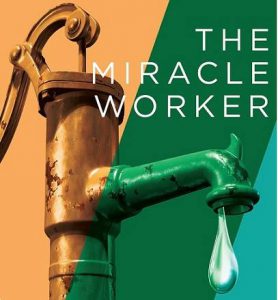 The play opened on Broadway in 1959, winning four Tony awards and rave reviews for director Arthur Penn and actresses Anne Bancroft and Patty Duke. The play has been adapted for TV twice and was revived on Broadway in 2010 in honor of its 50th anniversary.
In recent years, the play has been parodied by the movie "Clerks II" and the TV show "South Park." Come see the original to see what the fuss is about.
Performances will be held on Feb. 16, 17, 19, 23 and 24 at 7:30 p.m. On Sundays, Feb. 18 and Feb. 25, the show begins at 2 p.m.
Tickets are $12 for general admission and $10 for students, alumni, staff and seniors. To purchase tickets, click here. When buying tickets online, use the promo code "VALENCIAWEB" to receive $2 off each ticket.
Tickets and more information are also available by calling the college box office at 407-582-2900
Please note that due to the intimate setting of the Black Box Theater, late seating cannot be accommodated. Please arrive at least 15 minutes prior to show time.
WHAT:        "The Miracle Worker"
WHO:           The Valencia College Theater
Directed by Julia Gagne
WHEN:        Feb. 16, 17, 19, 23 & 24 at 7:30 p.m.
Feb. 18 & 25 at 2 p.m.
WHERE:     Valencia College East Campus, Black Box Theater (Bldg. 3)
701 N. Econlockhatchee Trail, Orlando, FL.
TICKETS:    $12 general admission
$10 for Valencia students, faculty, staff and senior citizens
Box Office: 407-582-2900
Online: www.valenciacollege.edu/arts