Orlando, FL – The Valencia College Theater will present the hit musical "West Side Story," from Oct.17-26, in the Performing Arts Center of Valencia College's East Campus.
Nominated for six Tony Awards during its original Broadway run and four more during the 2009 Broadway revival, "West Side Story" continues to captivate audiences.
A tale as old as time, "West Side Story" is adapted from Shakespeare's "Romeo and Juliet," but the theme of friction and violence between groups of people different from each other remains relevant today. "West Side Story" takes place in a more innocent age, the mid-1950s in New York City, where rival gangs determine territory by a fair fight and a handshake. Unfortunately, things go horribly wrong, both sides suffer losses, but through their tears there is a glimmer of hope for greater understanding.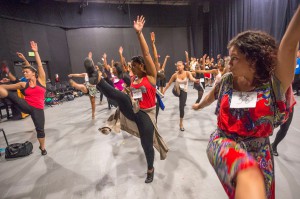 With its score by Leonard Bernstein, lyrics by Stephen Sondheim, and book by Arthur Laurent, "West Side Story" is one of the most successful musicals ever written. The iconic choreography and memorable songs continue to challenge actors and thrill audiences the world over.
Valencia's production will be directed by former Valencia theater program chair Julia Gagne, who is returning to direct this show. The show also features choreography by Eric Yow of Yow Dance, and musical direction by Tim Hanes.
Special events include: A special Monday night performance will be held on Oct. 20 with a discounted cost of $10 per ticket. On Oct. 24, the performance will be followed by a talk-back with the cast and crew. And on Oct. 25, the performance will include sign-language interpretation for hearing-impaired guests.
General admission tickets cost $15. Senior citizens, Valencia faculty, staff and students may purchase tickets for $12. Tickets are discounted to $10 for the Monday, Oct. 20 performance. Tickets can be purchased online at www.valenciacollege.edu/arts.
Use the code "VALENCIAWEB" for a $2 discount on each ticket (Not available for special Monday performance.) The discount is for online purchases only. Tickets and more information are also available by calling the college box office at 407-582-2900.
WHAT: West Side Story
WHO: The Valencia College Theater
Directed by Julia Gagne
Choreographed by Eric Yow
Musical Direction by Tim Hanes
WHEN: TWO WEEKS ONLY – 7 PERFORMANCES
Friday, Oct. 17 – Sunday, Oct. 26
Evening performances (Oct. 17, 18, 20, 24, 25) begin at 7:30 p.m.
Sunday Matinee performances (Oct. 19 and 26) begin at 2 p.m.
Special Monday performance: Oct 20 at 7:30pm
WHERE: Valencia College East Campus, Performing Arts Center
701 N. Econlockhatchee Trail, Orlando, FL.
TICKETS: $15 general admission
$12 for Valencia students, faculty, staff and senior citizens
$10 Special Monday performance, Oct. 20
Box Office: 407-582-2900
Online: www.valenciacollege.edu/arts