ORLANDO – Valencia College will celebrate the 22nd Annual Valencia Film Celebration on Saturday, Feb. 11, in the Performing Arts Center at Valencia College's East Campus, located at 701 N Econlockhatchee Trail, Orlando FL, 32825.
Doors will open at 5:30 p.m., and the event will run from 6:30 p.m. to 10 p.m.
The celebration gives movie fans as well as current and former film students the chance to view some of the many films that Valencia College students have worked on, in conjunction with industry professionals, since the film program's inception in 1988.
This year's celebration will open with four student short projects, followed by the highlight of this year's celebration: "S.O.S Mulheres Ao Mar 2 (Women at Sea 2)" directed by Cris D'Amato. The film is a comedy about a woman who is afraid her husband will fall back in love with his ex-girlfriend after they are assigned to work together. Released oversees in Brazil and Uruguay, this international hit was filmed in Universal Studios Orlando, Miami, Mexico and Brazil. It also features a cameo appearance from the late Ralph R. Clemente, the founder and longtime director of Valencia's film program. The film will be shown in Portuguese, with English subtitles.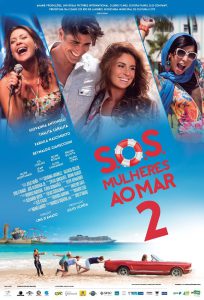 A lively Q&A with the short film directors and the executive producer of "S.O.S. Mulheres Ao Mar 2" will take place after the films.
Student short projects include:
"Case 2016"- Directed by Jose Cartagena.
"Twist of Fate"- Directed by Colleen Carr
"Empty Spaces"- Directed by Nicholas West
"Sense"- Directed by Matthew Durbin
Tickets are $10 for general admission; $7 for students, senior citizens and members of the military. The celebration is free for Valencia students. Concessions and commemorative celebration T-shirts will be available for purchase.
All proceeds will go to Valencia College's film program to help fund student-produced films.
For more details, call Valencia's Film Production office at 407-582-2764 or visit the Valencia Film Celebration website to see clips and learn more about the celebration.
To purchase tickets by phone, contact the Performing Arts Center Box Office at 407-582-2900. Or buy tickets online by going to http://campaign.valenciacollege.edu/arts/events/, scroll down to find the 22nd Annual Film Celebration and follow links to ticket purchase.
Please visit the Film Celebration Facebook page for more information and updates.