Orlando – Puerto Rican native Pedro Brull, who has become the father of the diaspora of Puerto Rican artists in Central Florida, will be the subject of an upcoming exhibit at Valencia College's Anita S. Wooten Gallery.
The exhibit opens on Aug. 23 and runs through Oct. 5.
Valencia will hold a gallery reception to open the exhibit on Sept. 6 from 5 to 7 p.m. Brull will give an artist lecture at 6 p.m. Admission to the gallery is free and the public is invited to come meet the artist.
"Brull is a unique example of an artist with a cosmopolitan mind, but with a background steeped in his island culture. This juxtaposition of a freewheeling worldly-wise mindset along with the warm and colorful spirit of a Caribbean islander has been at the center of his work from the very beginning," says Valencia gallery curator Camilo Velasquez.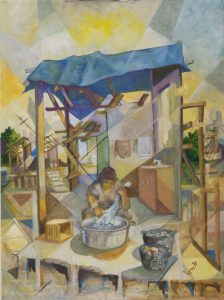 Brull's work remains relevant today, says Velasquez, noting that in a series of recent paintings titled, "What Maria Left," Brull "speaks truth to power about the aftermath of Hurricane Maria." "In one depiction, a woman handwashes clothes in open air under a blue tarp surrounded by ominous, leaning power lines and debris," Velasquez says. "Through this image, Brull has created an iconic female symbol of struggle and resilience."
Born in Puerto Rico in 1938, Brull graduated from the Puerto Rico School of Fine Arts with a bachelor's degree in painting and mural painting. A former art director for WKAQ-TV in San Juan, his work has been displayed in galleries, museums and government buildings in the United States and Puerto Rico. He currently resides in Kissimmee, and in 2017, was commissioned to create a mural for the opening of Valencia College's Poinciana Campus.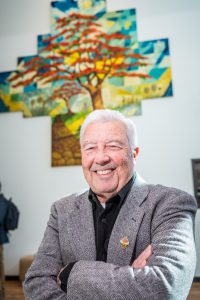 The gallery is located in Building 3 on Valencia's East Campus, 701 N. Econlockhatchee Trail, Orlando. Gallery hours are: Monday through Friday from 8 a.m. to 4 p.m.  For more information, call 407-582-2268.