ORLANDO – Valencia College will host an exhibition of artwork by Valencia graduate, ad agency executive and artist Chris Robb from June 13 through Aug. 1 at Valencia College's East Campus, in the Anita S. Wooten Gallery.
To kick off the exhibition, Valencia will host a reception for Robb on Friday, June 13, from 6:30 to 8:30 p.m. in the gallery. Robb will talk about his artwork at 7:30 p.m. in room 3-113.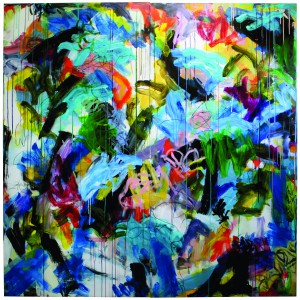 The exhibition, titled "The Truth or Something Like It," showcases the colorful abstract paintings created by Robb, who is a surfer, artist and chief creative officer at Push, an Orlando advertising agency.
In Robb's paintings, "colors jockey for dominance and cast their auras about; pedestrian reds and blues, brassy yellows and deep-throbbing pinks and magentas. Robb works spontaneously applying numerous layers, obsessively obliterating negative space until we are left with an impenetrable plane of interlocking and overlapping shapes," says Jackie Otto Miller, curator of Valencia's Wooten Gallery.
The Anita S. Wooten Gallery is located in Building 3, room 112, on Valencia's East Campus, 701 N. Econlockhatchee Trail, Orlando.
Admission to the gallery is free. The opening night reception is free and open to the public.
The gallery is open from 8:30 a.m. to 4:30 p.m., Monday through Thursday. During summer, the gallery is open 8:30 a.m. to noon on Fridays. For more information, please call 407-582-2298 or 407-582-2268.