Editor's note: We've assembled profiles of some of the finalists for the Valencia College Alumni Association Mary Smedley Collier Distinguished Graduate Award for 2019-20.
Jennifer Tolliver
When Jennifer Tolliver decided she wanted to go to college, she was very young. Her mother struggled to attain an education herself and impressed upon her the importance of it through her actions and words, "A college education is something that no one can ever take from you."
Growing up in New York, Jennifer Tolliver ran away from home several times, starting at the age of 13 – to escape an abusive father who she says was both physically and mentally dangerous.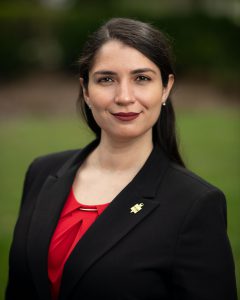 She sought outside help, but always ended up back with her father, who had custody. Eventually, her ticket out was to lie about her age and her background. She waitressed, rented rooms (where her name wouldn't be on a lease), and eventually dropped out of high school due to instability and the effort of holding two jobs. No one asked many questions.
When she turned 18, Jennifer reclaimed her identity – filing for her birth certificate, a driver's license and her passport. "Before this, I had no documents," she says. And when a friend offered to help her get on her feet in California, she left New York.
For a decade, she lived in southern California, working first at a bird store, where she eventually became a manager, then moving into banking, where she eventually became a supervisor. Her career path stalled, however, when she became ill with a virus that doctors were never able to identify.
Bedridden for a year, it took Jennifer about two or three years to fully recover. But when she did, she was unemployed and ready for a new start. After researching two-year colleges around the country, she discovered that Valencia College's high graduation rates and transfer rates and decided to move to Florida.
She moved to Kissimmee in 2013 and began working small jobs while waiting a year to establish Florida residency. She also began volunteering at Kissimmee Middle School. And there, she grew close with a science teacher – a man she would marry in 2016.
"My husband, from day one, believed in me and told me I had the intelligence and strength to finish college – that it would be a matter of showing up and doing my best," she says.
She studied for her GED (high school equivalency exam) and, in December 2017, as soon as she passed the exam, she marched into Valencia's Osceola Campus and asked when she could start.
She didn't have much money, but the Valencia teams helped her figure out her way.
"I'm surprised at how much the college has risen to meet me and help me achieve my goals," says Jennifer, now 35. "I didn't think, as a non-traditional student, that I would be afforded opportunities for scholarships, awards and even the chance to study abroad. But Valencia always found a way to surprise me."
Today, she's preparing to transfer to the Florida Institute of Technology in Melbourne, where she plans to study psychology.
"Mental and behavioral health is the reason I wanted to go to college," says Jennifer. "I have never lost that fascination with psychology."
Seth Nikolai Wolfe
Like a lot of Valencia College students, Nikolai Wolfe's educational path was not a straight one.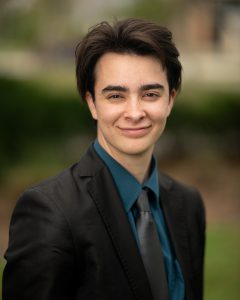 Originally from Orlando, Nikolai grew up in a very religious home and was home-schooled until the Wolfe family moved to Chicago in his junior year. Nikolai spent a year in Chicago before the family moved again, this time to Tennessee. But when Nikolai's grandfather died in the middle of senior year, Nikolai moved back to DeBary, Fla., to live with his grandmother.
After graduating from University High School in Volusia County, Nikolai – who is non-binary — moved out of his grandmother's house and, as he transitioned, bounced around, moving in with friends and worked a number of jobs.
Nikolai hoped to attend UCF but that wasn't in the cards. "It just wasn't possible," Nikolai says. "I could barely afford rent and food, so I couldn't pay for college too."
Then one day, a postcard about Valencia's Seneff Honors College arrived. "I thought, 'This looks interesting,' " Nikolai says. "I already knew that was the only way I was going to be able to continue with school, so I applied."
A month later, great news came. "I was accepted and I am undeniably blessed," says Nikolai.
While taking classes at the Winter Park Campus, Nikolai impressed several professors, including humanities professor Paul Chapman. When finances got tight, Nikolai dropped out for a semester and reached out to Chapman to explain the situation. Because Nikolai wasn't 24 years old yet, the family income disqualified Nikolai for financial aid.  Chapman helped Nikolai navigate the financial aid process and qualify for financial aid.
At Winter Park, Nikolai also crossed paths with English professor Chris Borglum and the two hit it off immediately. "Like me, he likes to read all the time," says Nikolai. Borglum repeatedly urged Nikolai to come play on the college's Brain Bowl team, which Borglum coaches.
"It took me all these years, but finally, in my last semester, I decided to do it," says Niko, "and I love it!"
Now Nikolai is focused on the next move – starting classes in the fall at Williams College, a small, exclusive liberal arts college in Williamstown, Mass.
But Nikolai is also reflecting on the Valencia experience and grateful for the people who helped along the way, including professors Chapman and Borglum and honors advisor Kera Coyer.
"She told me to always aim high, that I should try to do the great things," Nikolai recalls. "It was really good to have her in my corner."
Just being considered as a finalist for the college's Distinguished Graduate is an honor, Nikolai says. "I never thought I'd be here, honestly," Nikolai says. "I'm a little sad. I've been here four years. But I'm really proud of myself too. I've been through a lot and I've endured. I think my professors are proud of me too."