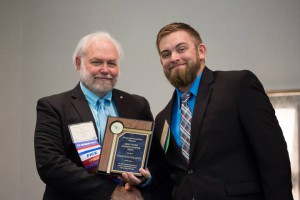 Valencia College's student chapter of the Florida Engineering Society received two prestigious awards at this year's FES/FICE 99th Annual Summer Conference and Exposition.
Valencia's FES student chapter was named Most Active Student Chapter among two-year engineering programs. This is the third consecutive year that Valencia's FES Chapter has received this award.
The FES Board noted that the Valencia College chapter has made notable strides in increasing membership, executing events and promoting FES among its students. Sean Brooks, the FES chapter president, accepted the award. "It was a great honor to be a part of this year's FES/FICE Summer Conference, and an even bigger honor to receive the Delta Award for Most Active Two-Year College," Brooks said. "We have done great things over the past few years, and this year we have bigger and better things planned. Our membership within our Valencia College chapter is a very involved group, and we hope to achieve our goals throughout this upcoming 2015-2016 year."
In addition, Prof. Charles Davis, who serves as advisor to the Valencia FES chapter, was named the Engineering Faculty Member of the Year. This is the second consecutive year that Davis has received the honor.
In giving Davis the award, the FES Board recognized his work advising the Valencia College chapter, as well as his continued efforts to educate future engineers in the areas of applied engineering as it relates to math, technical design, quality assurance, ethics, communications and management. Davis was also credited for his volunteer work with professional and industry organizations. He is currently serving as chair of the Florida Professional Engineers in Industry (FPEI).