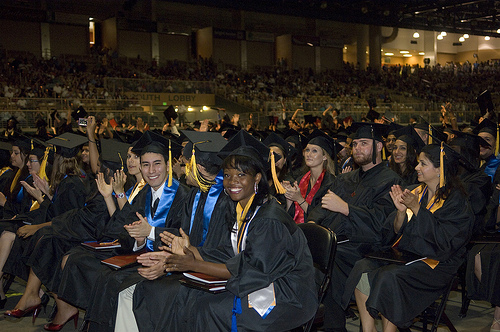 Kissimmee, FL – On Saturday, May 4, about 1,200 Valencia students will receive their associate degrees as Valencia College celebrates its 44th spring commencement at the Silver Spurs Arena in Kissimmee.
But another 20 Valencia students will make history at this commencement ceremony – becoming the first students to earn their bachelor's degrees at Valencia College.
Eleven of the graduating seniors are earning bachelor's degrees in Radiologic and Imaging Sciences, while nine students are earning their bachelor's degrees in Electrical and Computer Engineering Technology.
The two programs are Valencia's first bachelor's degree programs. The college began offering the two bachelor's degree programs in the fall of 2011. The graduating students have either completed their coursework or will finish it in summer 2013.
This year's commencement address will be given by 19-year-old Chacoryia Burns, who was named the 2012-2013 Distinguished Graduate by the Valencia Alumni Association.
Although an expected 1,200 students are participating in commencement ceremonies, 7,515 students have graduated in the summer, fall and spring semesters. Valencia holds one commencement ceremony each May.
To recognize this year's graduates, the college has posted the names of all 7,515 Class of 2013 graduates on a Lynx bus. The bus will be parked outside the Silver Spurs Arena, where students and their families can pose beside it for graduation photos. After commencement ceremonies, the bus will be used on Lynx bus route 15, which travels from downtown Orlando to Valencia's East Campus, on Econlockhatchee Trail.
Valencia's commencement exercises will take place at 10 a.m. at Silver Spurs Arena, Osceola Heritage Park, on U.S. Hwy. 192 in Kissimmee.