WINTER GARDEN, Fla. —  The library at Tildenville Elementary School is teeming with excitement and fidgety energy. At three large tables, 25 fourth- and fifth-grade students are huddled around a charge controller, attaching wires.
With the help of six Valencia College engineering students, the elementary school kids are building what may be the coolest science project they've tried yet – three portable solar generators that will be sent to an orphanage school in Uganda, where there is no electricity.
The portable generators, known as solar suitcases, will enable the schools to charge laptops or cell phones or operate lamps.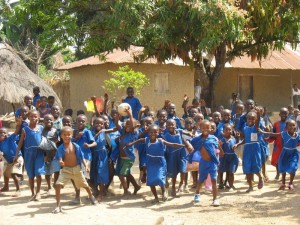 The students meet with the Valencia team once every two weeks. And by early December, their solar suitcases will be finished and ready for Uganda, along with personalized notes and letters from the young people who built them.
For students like Jordan Monson, the lessons may lead to a career. "I used to help my brother build Lego Mindstorms," said Jordan, 11, "so I like building things with wires." As for engineering, she's not sure if it's her thing, but she thinks connecting the wires is pretty cool.
Right now, however, she and the other Tildenville students are learning about loads, voltage, wiring and digital multi meters. Along the way, they're also discovering how engineers think.
"As future engineers, you've got to double-check and triple-check your work," says Dr. Deb Hall, an engineering professor at Valencia who is urging the children to check their wires and connections. She practically shouts to be heard over the din of excited voices in the library. "You've got to be detail oriented. Why? Because when these get to Uganda, you want to make sure it works. So we have to double- and triple-check that we've done it right."
In addition to double-checking their work, the students also have begun to discover that building something from scratch isn't always easy.
When his teacher first described the solar-suitcase project, "I thought it would be short," said Matthew Medina, 11, one of the fifth-graders working on the solar generators. "But then I realized that it would take a long time and a lot of effort."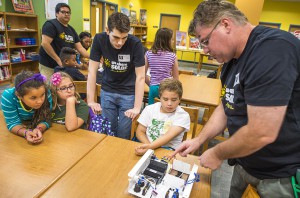 It also took a lot of planning. The idea for the Tildenville-Valencia partnership was born over the last year. Three years ago, Hall and a handful of Valencia students began visiting the fifth-grade science classes of Sharon Burnett at the small Winter Garden elementary school. There, they helped her build solar-powered fans and cars, squishy circuits, wind-powered lights and small maglev (magnetic levitation) vehicles, all funded by the local chapter of the Institute of Electrical and Electronics Engineers (IEEE).  During each visit, she would also bring a solar suitcase to show the elementary-school students the kind of projects that college students are working on.
Last year, after the demonstration, Burnett asked Hall how much it cost to make each one. And then came the more intriguing question: If the small elementary school could raise the money to buy several kits, would Hall and her Valencia team help the Tildenville students build them?
Hall had her doubts. But she contacted WeCare Solar, the California-based nonprofit that created the solar-suitcase design and sends them to charities and hospitals around the world. At first, the folks at We Care were hesitant. They told Hall that the youngest students to ever construct solar suitcases had been middle-school students.
Undeterred, Hall assured the WeCare Solar team that every step would be overseen by the Valencia students – and that if there was anything dangerous or very tricky, the college students would do it.
"And I promised I would be there too," said Hall, whose students have built five solar suitcases for WeCare Solar. Finally, the WeCare folks agreed, but they had one condition – after the suitcases were completed, they would be sent to the WeCare Solar headquarters in California, where the suitcases would undergo a quality inspection before being shipped to Uganda.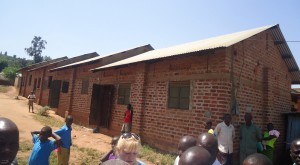 Hall and her team agreed.
But that wasn't the only issue. Each suitcase costs about $1,500 to make. Where, asked Hall, would the money come from?
After writing a grant proposal, however, Tildenville teacher Burnett came up with the money, not to build just one portable solar generator, but three.
The project launched in September. Both sides were a little nervous at first, but the Valencia students do a lot of hand-holding and helping.  Jonathan Dressler, 21, who's working on his Associate in Arts in engineering, volunteered to help after spending last summer in Europe studying sustainability through Valencia's study abroad program. Inspired by what he saw in Germany and France, he wanted to bring solar energy to Florida.
"I really want to go into the sustainability field, so I thought I may as well do this now," said Dressler.
Sam Bevlin, 25, who's working toward his bachelor's in electrical engineering technology at Valencia, was also on that trip – and it changed his career plans.
"I'd always thought about sustainability, but that trip lit the fire for me," said Bevlin.
When Hall talked to the students about the chance to build a solar suitcase – and help the elementary kids learn about solar — they agreed to help.
"I didn't realize what I was getting into," said Bevlin, whose group is a table-full of squirming, antsy boys. "But I've enjoyed working with the kids. They're really funny."
"Yeah, but I don't think I'm having kids any time soon," adds another.
For the Tildenville Elementary students, the experience has given them a taste of engineering. And though most of the students aren't planning on becoming engineers, they've found the hands-on learning pretty cool. "It's a great way to do science while working with your friends," said 11-year-old Nemiah Wallace. "I really want to be a teacher – and I thought this would help me learn how to teach science."
Yet the lessons aren't limited to science. At the beginning of the school year, Burnett and Hall taught them about Uganda and what life is like for children there. "It was very difficult for them to understand why there are so many orphans there," said Burnette. "They have a hard time comprehending that both of your parents might be dead or that one parent had to give up children to an orphanage. I think they now realize how fortunate they are to live in this country."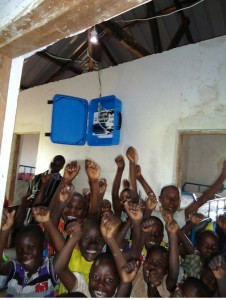 For Valencia professor Deb Hall, the magic of the program comes when students realize that technology – and something as simple as a portable solar generator – can change children's lives. "That gets their attention," says Hall. "I can see it in their eyes – especially the girls. When they learn that it's going to be used in an orphanage so children can see where they're walking at night and don't step on a snake, or that it will provide a light in their bedrooms, they are more interested. They're interested in bettering people's lives."
And that, she says, may be why more girls aren't interested in science and technology. "We don't market science and technology as effectively as we could. We should be teaching them that technology can benefit people's lives – and make that human connection. That is what gets a girl's attention."