ORLANDO – Valencia College will host an exhibition of artwork by Orlando artist Paul T Scarborough from June 12 through July 31 at Valencia College's East Campus, in the Anita S. Wooten Gallery.
To kick off the exhibition, Valencia will host a reception for Scarborough on Friday, June 12, from 6:30 to 8:30 p.m. in the gallery. The artist will give a lecture at 7:30 p.m.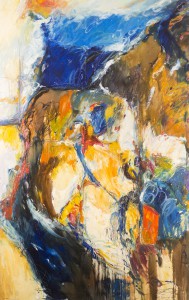 The exhibition, titled "Jump to the Other Side," is a collection of abstract paintings that feature bold colors and juxtapose symbols of human sensuality against themed landscapes.
Scarborough, who grew up on Florida's Space Coast, graduated from the Art Institute of Fort Lauderdale in 1983 and later became a successful art director in the Orlando advertising market. In 2005, Scarborough left advertising to pursue painting full time. The bulk of his early work consisted of vivid, broad-stroke watercolors that evoke spirited impressionism. In 2010, he began a new series of oil and acrylic paintings that reflect spiritual and physical indulgence.
The Anita S. Wooten Gallery is located in Building 3, room 112, on Valencia's East Campus, 701 N. Econlockhatchee Trail, Orlando.
The gallery is open from 8:30 a.m. to 4:30 p.m., Monday through Thursday. On Fridays during the summer, the gallery closes at noon. For more information, please call 407-582-2298 or 407-582-2268.