Standing at the podium at the graduation ceremonies for Rollins College's Hamilton Holt School, 25-year-old Traci Campana said her life was a lot like the story of "The Little Engine That Could."
Every time life presented a hurdle, Traci slowly but surely tackled it, repeating to herself the little engine's mantra: "I think I can, I think I can."
Born with cerebral palsy, epilepsy and several learning disabilities, Traci Campana started school with several hurdles already before her.  She spent half her school days in special-education classes and the other half in mainstreamed classes.
By middle school, she'd worked hard enough to be mainstreamed into regular classes full-time. Still, school counselors told her mother that Traci should pursue a "special diploma" because it was unlikely she'd be able to complete the requirements for a regular diploma.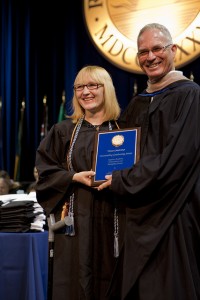 In high school, she was determined to succeed. She transferred from one school to another, searching for a good fit — a place that would accept an exceptional young woman in a wheelchair, one with a handful of disabilities, but many abilities.
Even when the odds seemed stacked against her, Traci — and her mom and her grandparents — persevered. When doctors told her mother that Traci wouldn't be able to walk when she was in her 20s, her mom put her faith in Traci.
"My family never gave up on me," says Traci.
When doctors told her mother that Traci wouldn't be able to walk when she was in her 20s, her mom put her faith in Traci. When dyslexia made it difficult for her to read her textbooks, her grandfather read them aloud to her.  Still, because of her disabilities, keeping up with her homework was hard.  In middle school and high school, she arrived home around 3 or 4 p.m. and worked on homework until she went to bed at 10.
"It was never easy," she says.
By 11th grade, Traci decided to try dual enrollment and signed up to attend Valencia College.  Though she'd initially been skeptical about  Valencia – " I looked down on it because it was a community college" – Traci started out taking Student Success and Freshman Composition. She soon discovered how much she loved the college setting — and took classes every semester until she'd earned an A.A.S. in business management, marketing and administration.
And, to her surprise, she earned As in all her classes at Valencia.
"During my first few semesters at Valencia, my family was surprised and happy when I got As," she says. "Then it became expected," she added with a laugh.
At Valencia, she also worked closely with an adviser in the Office of Student Disabilities, Trish Anderson, who helped her work through problems and showed her the ropes of college.  One thing that helped was seeing the list of courses she would need to earn a degree — and what order she should take them in. "It was very concrete and very organized," Traci said. "I liked that."
In one of their many conversations, Anderson suggested that Traci apply to Rollins College after she'd earned her degree.  "I suggested Rollins because I knew she wouldn't be a little fish in a big pool there," said Anderson, who also graduated from Rollins. "I knew that she would shine there."
Anderson also felt confident that Traci could handle the workload at Rollins. 'I work with a lot of students with a lot of disabilities. I think she didn't know how strong she was, academically," Anderson said. "She worked hard and it showed."
For Traci, the suggestion came as a shock. Even though she had dreamed of attending Rollins since she was a kid — riding in the backseat, looking out the window as her mom drove by Rollins College's stately Winter Park campus — she wasn't sure that she would be able to handle the academic rigor.
"I thought she was kidding," Traci says. "But about halfway through (my degree), I realized that was my goal. So I didn't apply anywhere else. It was Rollins or bust for me."
After graduating from Valencia, Traci was admitted to Rollins' Hamilton Holt School – the evening college that Rollins operates – Traci majored in psychology.  And, just as Anderson predicted, Traci excelled there.
Traci made the most of her time at Rollins, where she took leadership classes and participated in an undergraduate research project in psychology, which she and a team member presented at a state conference. She also worked on an independent study project at the University of Central Florida, in which she worked with augmented reality and simulation training to create training exercises for medical personnel.
In the classroom, Traci didn't fade into the woodwork. Instead, she spoke up, shared her opinions and got to know most of the other students and professors in her classes.
"She was an excellent student," recalled Dr. Jim Armstrong, who taught a philosophy class called "Dostoevsky, the 'God Problem' and Self Understanding," which was one of Traci's favorite classes at Rollins.  "We were aware of her 'so-called handicap' and condition, only because of the fact that she had to use a cane, but she was simply one of the students here."
In May, Traci was named the 2012 Hamilton Holt School Outstanding Graduating Senior, because of her volunteer work, leadership activities and a 4.0 grade point average.  Now she's studying for the GRE, the graduate record exam, so she can go to Rollins College's Crummer Graduate School of Business and earn a master's degree in business administration.
"It's funny. Looking back, I would never be at Rollins without Valencia," she says. "Valencia gave me a chance to explore and figure out what worked best for me. I discovered that I thrived in small classes and did well in online classes. And Valencia taught me not to be afraid to ask for help.  If I need tutoring, I will get it. At Rollins, I used tutoring or a writing consultant every single semester."
At Rollins' graduation, Campana — standing without the aid of a cane — spoke to her fellow graduates about the challenges many of them faced. Many had worked full-time, going to college at night. Others raised children while studying. Many struggled to continue their college educations while dealing with setbacks, either personal or financial.
Everyone, she said, faced some hurdles.
"Challenges in life are nondiscriminatory; everyone eventually encounters a challenge or two along their path of life," she told the crowd. "How we face and address those challenges is a measure of who we are as individuals."