*Editor's Note: "WASP: A Wartime Experiment in WoManpower" was announced as a winner of the 2020 Suncoast Regional Emmy® Award for Historical Documentary in Dec. 2020. In Spring 2021, Director Jon Anderson presented Valencia College sound professor Raul Valery with an honorary Emmy® of his own for his contributions to the final project's sound editing.
W.A.S.P. (which stands for "Women Airforce Service Pilots") gallantly reclaims & illuminates the incredible stories of a group of women who heroically flew military airplanes during World War II, only to be forgotten before war's end. 
Read more about Anderson's passion project in the article below.
Jon Anderson was working as a cinematographer on a Valencia film project in 2004 – a documentary about the Tuskegee airmen – when he visited an air show to talk to a retired Tuskegee pilot.
Standing beside the pilot was another pilot — a woman who had flown planesfor the U.S. Air Force during World War II. When Anderson explained that he was working on a documentary about the Tuskegee pilots, she challenged him. "When are you going to do one on the WASPs?" she asked.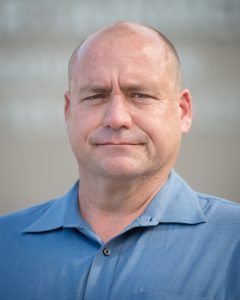 The Women Airforce Service Pilots (WASPS) were civilian female pilots, employed to fly military aircraft under the direction of the United States Army Air Forces during World War II. By using women to fly planes stateside, the Army Air Force could free up men to fly combat missions overseas.
And thus began Anderson's quest to find and interview as many WASPs as he could. He started at a WASP reunion in 2004 – and over the past decade has interviewed and filmed over 40  WASPs. He partnered with historians at Texas Women's University, which had a team conducting oral histories of WASPs. The TWU team gave him access to a trove of historical photos – and loaned him a vintage WASP uniform to use when filming re-enactments.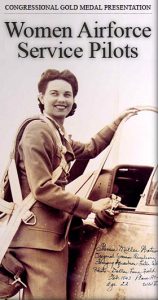 And at Valencia, the 1992 grad (who went to Valencia with "Blair Witch Project" alum Ben Rock and Gregg Hale) worked with Valencia students to craft his documentary. Just as he had with his 2004 Tuskegee Airmen documentary, "Silver Wings & Civil Rights: The Fight to Fly," Anderson asked Valencia film students help him shoot interviews with WASPS – and re-enact scenes with vintage aircraft.
"It's always been my dream to come back and do a film with Valencia students," says Anderson, who also worked for 12 years as an instructor in Valencia's film department. "One great advantage of working with the students is that, since I taught their intro class, I knew what they were passionate about and could give them assignments that matched their passions. And then  because the scenes all involve people in their upper teens and early 20s, (Valencia students) also make great extras."
He also got help from Valencia's digital media students, who helped arrange dozens of green-screen shots – and used "parallaxing" to turn still photos into moving pictures.  Likewise, Valencia's sound and music technology students helped with voiceover and scoring on the film. And he partnered with Valencia adjunct instructor Rachel Wright, who served as producer and editor on the film.
Over the years, he has refined and honed the documentary, which was initially shown at the 2016 Valencia Film Celebration as "Broads and Bombers." But last year, he came across home movie footage by a WASP from California and that, coupled with editing changes, have produced a "tighter, cleaner" story, says Anderson.
The resulting 89-minute documentary, "WASP: A Wartime Experiment in WoManpower," will debut at the Orlando Film Festival on Sunday, Oct. 22 at 3:15 p.m.
Details: https://orlandofilmfest.com/movies/wasp-a-wartime-experiment-in-womanpower/