Naren Reyes is planning to go to medical school — which can add up to big tuition bills.  To save money — which he'll need for medical school — Naren opted to attend Valencia for his first two years of college.
As it turns out, that was a smart move.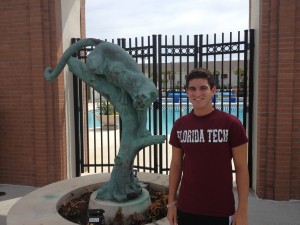 Not only did Naren save money on his first two years of college, but after graduating from Valencia, the Cypress Creek High School graduate won a full scholarship to Florida Institute of Technology — through a scholarship program that's open only to Valencia College grads.
"My chemistry professor at Valencia told me about this great scholarship opportunity that they have at Florida Tech — and when I checked out Florida Tech, I loved it," he says. "Everybody here was very personable."
Naren, who was a member of Phi Theta Kappa, the honor society for two-year colleges, landed the Florida Institute of Technology Presidential Scholarship for Valencia College Transfer Students, which covers his full tuition.
Now he's majoring in biochemistry and is in Florida Tech's pre-med track.
"If I hadn't received the scholarship, I wouldn't have been able to go to school here. That really sealed the deal," says Naren, 20.
After graduating from Valencia, Naren considered transferring to the University of Central Florida or the University of Florida to complete his bachelor's degree.
He was accepted at both schools, but when he visited Florida Tech, he was wowed by the small class size — which he'd grown accustomed to at Valencia.
"At Florida Tech, the maximum number of students in a class is 50. That's the cap — and that was terrific news for me. That really clinched the deal," says Naren. "I loved my small classes at Valencia because I got that one-on-one experience with the professors and this is exactly what I am getting here."
Naren was also impressed that he got to meet with an adviser on his campus visit. "They have this 'Exploration Day,' which is kind of like a general tour," Naren says. "Since I was already technically accepted, I got to talk to a faculty adviser and they literally take you step by step, telling you what courses you need, which ones you should take and which ones you shouldn't take. It was an awesome experience."
Now Naren is living on campus at the Melbourne school and commuting back to Valencia's Osceola Campus a few afternoons each week to work part-time as a lab assistant.  And he's encouraging other Valencia students to consider applying for  the Presidential Scholarship that FIT offers to Valencia grads.
"The process is very easy," says Naren.
The scholarship program, which provides full tuition for up to 10 Valencia graduates each year, is open to Valencia students who apply for Florida Tech admission. The scholarship amount varies, depending on the recipient, but Florida Tech guarantees that those selected will receive a combination of federal and state grants and scholarships equal to Florida Tech's full tuition.These scholarships will be renewable for two years of full-time study.
Click here for more information about the Florida Tech scholarships for Valencia College graduates.