ORLANDO — Before a crowd of about 100, military officials, Valencia officials and the college's student veterans on Monday honored the 307 Florida soldiers who have died fighting the wars in Iraq and Afghanistan.
More  than a dozen family members of fallen soldiers gathered at the West Campus ceremony, surrounded by community members and Valencia students and staffers.
"Our service members do not go to war because they love to fight," said Brig. Gen. Francisco Espaillat, commanding general of the 143rd Sustainment Command, an Army Reserve Command based in Orlando. "They are ordinary people who respond in extraordinary ways to our nation's call to service. They follow in the footsteps of generations of citizen-soldiers who have served our country in times of need."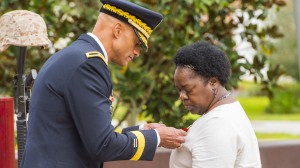 At the service, Espaillat presented the Gold Star lapel pin to Wrenita Codrington of Plant City, whose son, Sgt. Cory Clark, was killed in Afghanistan in 2007. The Gold Star is given to the family members of Army veterans who die in the line of duty.
"Today, we pause to remember a very special group:  The soldiers who made the ultimate sacrifice in the wars of Iraq and Afghanistan," said Dr. Falecia Williams, president of Valencia's West Campus. "We stagger at the enormity of their sacrifice."
Family members of the fallen soldiers also gathered to see a memorial photo exhibit, "Remembering Our Fallen," which will be on display for a week in celebration of Veteran's Day.
The traveling memorial commemorates the lives of Florida's fallen soldiers with photographs, brief narratives, and written messages left by loved ones.
"Because of memorials walls like the ones here today, we can, as a nation, continue to show that we remember and we care about these fallen soldiers and their families," Espaillat said.
For family members, the memorial wall represents not just memories, but a chance to share with the public the stories of their sons and daughters — in the hopes that they won't be forgotten.
"I think it's important to have (the memorial wall) on display at a college, so the students can see it and are aware that people from their community are serving and are dying," said Maureen Miller of Oviedo. Her son, Staff Sgt. Robert J. Miller, died in action in January 2008, while charging through a storm of bullets to give 22 other soldiers a chance to survive. Miller, a Green Beret who was 24 at the time of his death, was posthumously awarded the Medal of Honor.
At the Monday ceremony, his mother listened to the speeches and, later, pinned a small replica of the Medal of Honor token next to his photo in the memorial wall. She then paused to reflect on the photo of another Oviedo soldier, Army Sgt. First Class Alwyn "Al" Cashe, who died of burns he suffered when he tried to rescue men from a Bradley Fighting Vehicle that had been hit by a roadside bomb.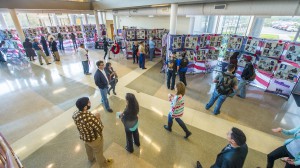 For many families and visitors, seeing the photos and the tributes in the memorial was emotional. "I was at the unveiling in Tallahassee and it was very moving," said Dorinda Blaney, whose son, Christopher, died in Iraq in 2006.
The memorial wall will be on display at West Campus, in the atrium of Building 11, through Nov. 14.   The memorial was created by Patriotic Productions of Omaha with financial support from Bellevue University, a private, nonprofit university in Bellevue, Nebraska.