It's often been said that if you grow a garden, you can change the world. And that's exactly what Dr. Javier Garces, chairman of the Valencia College horticulture department, along with volunteers from Edgewood Children's Ranch, are trying to do.
"This was our first garden," says Garces, gesturing to the 1,200-square-feet plot, which is the size of a large living room. Five rows of vegetables – broccoli, cauliflower, radishes, beets, leeks, different types of lettuce – peek out from under black plastic.
But the garden represents something more to the folks at Edgewood Children's Ranch: It represents a chance for the ranch to be self-supporting.
"That little piece of land," says Garces, "generated all this excitement."
The excitement comes from Bruce Myrick, a local builder who serves on Edgewood's board of directors. Using the ranch's 107 acres, Myrick envisions an operation that one day will be completely sustainable: Growing its own food and using solar power to power the ranch. And one day, he says, it's possible that the ranch might have a small farm store on the edge of its property, where the students can sell vegetables, flowers and even food made from their products.
Earlier this month, a team of Valencia horticulture students worked alongside teenagers who live at Edgewood Children's Ranch to take the first steps toward that vision.  Six months after starting that small garden, the Valencia students, alongside students and volunteers from Edgewood Children's Ranch, are building an agricultural experiment: Box gardens, hydroponic gardens and another large in-ground garden.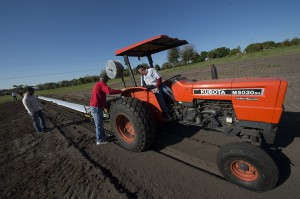 While one volunteer plowed the field with a tractor and laid down irrigation lines, the Valencia students assembled the hydroponic and box gardens.
"We have all this land that used to be citrus groves," says Myrick, gesturing to acres of fields. "We've got a Frisbee golf course on this, but we can do something more with this land. So we've decided to make this a laboratory for Valencia's horticulture department."
The children's ranch, which houses about 50 children between the ages of seven and 18, sits on a bucolic setting – at the edge of Lake Hiawassee, with small cottages and dorms and a school settled on acres of land. Kids go there for a variety of reasons. A juvenile court judge may have ordered them to either go to jail or to Edgewood. Their parents, many of whom are single moms, often turn to the ranch for help in raising boys, who are tempted by the streets and gangs and drugs prevalent in their neighborhoods. And some are foster children.
Here at Edgewood Ranch, they go to school on site, where the children learn much the way kids did at a one-room schoolhouse. They work individually, on their own level, guided by a teacher. The student-to-teacher ratio is 10-1.
For Edgewood students like Kensley Alverseau, 18, working in the garden is just part of the process of learning to set priorities and work on a team project. "This teaches you a good work ethic," said Kensley. "You have to take care of the garden for it to grow." Kensley doesn't want to be a farmer – he's aiming for a career in the medical field – but he understands that working together with his classmates and friends will help him reach his goals.
"This teaches them to work together as a team, and they learn how to work for bosses or for a supervisor, doing something that they don't necessarily want to do," said Bruce Jordan, one of the houseparents at Edgewood Children's Ranch. The students working in the garden give up some of their free time to do that, notes Jordan. That, he says, "teaches them to be selfless, not selfish."
While the students at Edgewood Children's Ranch are learning values, Valencia's horticulture students are gaining different types of lessons. For Valencia horticulture students Kim Hanberry and Callene Reese, tending the garden at Edgewood Children's Ranch has been like a mini-internship. Although the garden was a class project, the two continued to help out at the garden, months after the class project there concluded.
"After the class ended in December, I kept coming back and tending the garden, making sure it was watered and tending the plants," said Reese. "We invested so much time in it, I couldn't let it go."
A former Valencia employee, Reese began taking horticulture classes last year and was quickly bitten by the bug: Now she is a full-time student and wants to eventually start a business helping churches create and maintain community gardens. "This is what I want to do," she said, gesturing around the garden. "I'm going to follow my passion."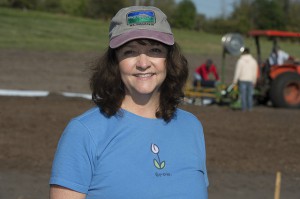 Hanberry, who works in indoor plant care for hospitals, businesses and churches, was delighted to get the chance to work outdoors. "I'm interested in organic gardening and doing it locally is the best way to start. For instance, I know very little about hydroponic gardening, so this is a way for me to gain some practical experience with it. For me, this garden is part of the learning process."
This spring, Hanberry is creating a "vermiculture bin," or worm composting bin, for the ranch. "The kitchen has a lot of food scraps, so we're going to take them and let them break down the scraps into compost, which we can then use in the garden," Hanberry said.
And for the visionaries at Edgewood Children's Ranch, the experimental gardens are just the beginning.
Eventually, Myrick says, he'd like to see the children's ranch become an exhibition center for sustainable agriculture and sustainable living – and teaching the children along the way.
"We're trying to take a holistic approach," said Myrick, whose wife also serves as principal of the ranch school. "We want to equip kids not just to succeed in their present life, but equip them to succeed in their entire lives. This started as a project designed to grow vegetables for the kids. But now we see it as something bigger. We want to be completely sustainable, to do an agriculture project, build a solar power grid, and even build housing here for students who are aging out of our system and don't have a good home to go back to."
Check out the video below to see how the garden is progressing.
http://www.clickorlando.com/atrisk-children-tend-to-veggie-garden-at-edgewood-ranch/26222550
To learn more about Valencia's horticulture program, please visit http://valenciacollege.edu/asdegrees/horticulture/