Valencia College, in partnership with area apartment community developers, has launched a 10-week program to train workers as Apartment Maintenance Technicians. During the course, which is currently being taught at Valencia's Poinciana Campus, students learn appliance repair, plumbing, carpentry, basic electrical repair, as well as preventive maintenance. They are also trained on pool and spa operations and how to perform basic HVAC maintenance and repair.
The average hourly wage for an apartment maintenance technician in Central Florida is $15 to $18 an hour – and many employers also offer their maintenance technicians discounted rent.
"The skills that the students learn in this class open up a wide number of career  opportunities. Not only can students work at apartment and condominium complexes, but at time-shares and the many hotels in the area," said Dave Giordano, director of recruitment and job placement for Valencia College's Accelerated Skills Training team.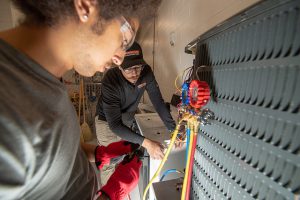 Valencia College officials designed the Apartment Maintenance Technician course after discussions with members of the Apartment Association of Greater Orlando, who said they couldn't find people who were qualified to fill positions as apartment service technicians.
"They need the background and maintenance skills, but they also need the demeanor to go into people's homes and do the work. Those soft skills – of talking to tenants and calming down someone who may be angry or upset – those were skills that a lot of people don't have," says Giordano.
In addition to job openings, Giordano said there are opportunities for advancement in the industry. "(The hiring managers) said that if they demonstrate that they have the (repair) skills, if they have good people skills and have the ability to manage multiple work orders, they'll move up the hourly rate and have the opportunity to become a supervisor down the road," said Giordano.
The first class started in December 2018,  and received funding from a U.S. Department of Education grant for Hispanic Serving Institutions.  The 12 students currently in the course are scheduled to graduate on Feb. 21, 2019.
The course is taught Monday through Thursday, from 7:30 a.m. to  4 p.m. To provide students with relevant work experience, Valencia officials have helped some students find internships with local apartment complexes. On Fridays, some students are interning with local apartment complexes, where they're earning $13.50 an hour and shadowing experienced service technicians.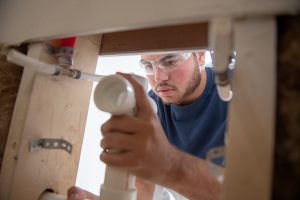 Student John Castin, 22, who landed an internship with Concord Rents' Regatta Bay complex, said he is learning from the experienced techs, but also getting to try some basic repairs on the job.
"I've learned a lot about the field already," says Castin. "On day one, within the first two hours, they already had me shadow a work order. We went to unclog a sink, so I removed the p-trap and we fixed it. Later we helped a new guest move in and gave the new resident the spiel on when to call maintenance. On day two, we responded to a fridge that wasn't cooling right.  I took apart the components in the fridge. We had to diagnose it and find out what was wrong. I ended up replacing the thermostat and relay switch."
What Castin likes about the job is the unpredictability of each day. "I, for one, don't like when things get monotonous," Castin says. "Having that dynamic, where every day is not the same, I like that. Plus, we're helping people. If something stops working, we help get their day back on track. And they're really grateful."
Students who complete the Valencia College program may earn three industry certifications by the end of the 10-week course: the EPA 608 Technician Certification, which teaches technicians how to handle ozone-depleting refrigerants often found in air conditioners and appliances; a Certified Pool Operator certification, which demonstrates their knowledge of pool chemicals and operation;  and an OSHA 10 certification, which teaches students how to recognize, avoid, abate and prevent safety and health hazards in workplaces. The cost of these certifications is included in the tuition price for the course.
After one year on the job, graduates can also obtain their Certified Apartment Maintenance Technician certification, in which they work with their employers to demonstrate their skills.
Valencia instructors also focus on skills that aren't always taught in school – how to dress appropriately, the importance of arriving at work on time and how to  deal with a frustrated  resident whose toilet is overflowing or whose air conditioner isn't working.
"On top of being a jack-of-all-trades, you must also have strong customer service skills," says Joshua Stieler, who teaches the course. "Knowing how to deal with people who are disgruntled at 4 in the morning when you're really tired and remaining positive all the time, even in extreme heat or rain, is key to keeping residents happy."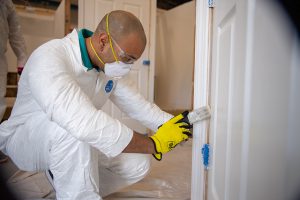 However, the students quickly realize that thanks are their reward.
"A lot of the students love the instant gratification of fixing something for somebody else," says Stieler. "If I just came over to your house and fixed your dishwasher, you're going to give me praise, you're going to give me thanks. That boosts my morale to see that I just made your life easier. That aspect of the job, people enjoy that."
Students who graduate from the program will have not only marketable skills, but also the chance to live in the complex where they work for a reduced rent. Some employers are offering from 20 to 40 percent reduction in rent, in addition to healthcare benefits.
"All of the companies that came (to Valencia for a recruiting day) talked about the rent discounts," says Castin. "They talked about it because, if you're on call, instead of having to come out in the middle of the night, you're already on the scene."
And while many students may start out working in the apartment or hotel industries, the skills they're learning are applicable to a number of jobs. One student plans to take additional coursework in HVAC (heating, ventilation and air condition) and work in that industry.  Another student is interested in starting his own handyman/home repair company, while one student says she plans to use her new handyman skills to flip houses.
Valencia is currently offering the program at its Poinciana Campus, with classes beginning in late March and mid-June. Giordano envisions offering the 10-week course at a location in east Orange County – to help serve the large number of apartment complexes near UCF.
Click here for details on the Apartment Service Technician program and how to enroll.
Scholarships and financial aid are available to many students through community organizations such as CareerSource Central Florida or the Veterans Administration. For details, call Valencia's Accelerated Skills Training team at 407-582-6688, email astinfo@valenciacollege.edu, or check out our upcoming courses at www.valenciacollege.edu/ast