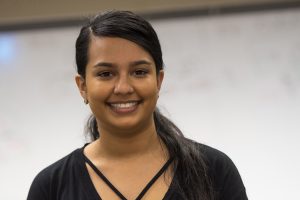 Two Years of Opportunity
At first, Jasmine Cruz was not excited about the prospect of going to Valencia. She had resolved to perform better in college than she did in high school, but was upset that her grades had reduced her chances with state universities.
"I was actually mad at myself that I only had the option to go to community college," Jasmine recalls. "But now that I'm at Valencia, I'm glad that I'm here. It's more like a regular college. It was a second chance for me, and in a way it's better, because it's a more intimate environment."
After Jasmine joined the LSAMP program, her advisor encouraged her to apply to the Emerging Researcher's Conference in Washington, D.C. She thought the experience might help her achieve her goal of attending medical school.
While there, Jasmine impressed an Ohio State program director who then made a deadline exception to recruit the young Valencia student into the Student Research Opportunities (SROP) program.
"It was really out of nowhere," Jasmine recalls. "I was intimidated, because all of these schools like Harvard and Princeton were there."
While on a two-month summer research program in Wooster, Ohio, Jasmine delved in to the microbiology of the Aedes aegypti mosquito, which is known for spreading multiple viruses including the Zika virus. Her team studied the importance of a protein found in the mosquito's digestive DNA, and through the process, she learned the finer points of research procedure.
The program also provided Jasmine with instruction on presentation technique, and she recently traveled to the LSAMP conference in Illinois to demonstrate both her virus research and her new procedural and presentation skills. Having participated in multiple conferences, she has noticed a higher level of confidence in herself, and now wants to branch out into field work or study brain function with a focus on psychology or Alzheimer's disease. Although she once dreamed of medical school, she now plans to narrow the scope and has set her sights on earning a doctorate in medical research. In the meantime, she hopes more students will re-evaluate their perception of two-year colleges, just as she has done.
"Valencia has changed me tremendously," says Jasmine. "This college has lots of opportunity to give to students. They should stop looking at it as, 'Oh, general courses,' and should start their opportunities here. I think a lot of students have that mentality and that it's just a community college. If they venture out and look out all the resources, they could do great things in their first two years."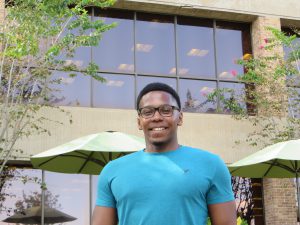 Finding a Path
When Jontavius Jacobs graduated from Harmony High School, he knew he wanted to become an engineer – but he thought his future was in biomedical engineering.
That is, until 2014, when he got the chance to spend a week at Alabama's Marshall Space Flight Center. There, he and five teammates competed against seven other teams to build and design a rover using Lego Mindstorm kits. "It was an awesome experience," says Jontavius. "We had to build it, and then program it to get a rock sample and bring it back to a set location. Then we had to present our project."
Inspired by the experience at NASA, Jontavius decided to switch his career goal – from biomedical engineering to aerospace engineering.
"This program was a big deal for me," he says. "I'm pretty heavily involved at Valencia" – serving as an officer in Phi Theta Kappa and the Model United Nations club. "But engineering-wise, it was still a little blurry for me. I wasn't sure where I was going with engineering. But this program really crystalized my engineering path."
After an internship at Kennedy Space Center and a chance to present a poster on NASA's history of Mars exploration at a national conference, Jontavius, 23, is planning his next steps.
He is waiting to hear if he's been accepted at his four target universities: University of Colorado at Boulder; University of Maryland at College Park; University of Illinois and the University of Central Florida.
"They're all top 10 aerospace engineering programs, so I'm waiting to see where I get in. But I love cold weather, so I'm kind of hoping for Colorado."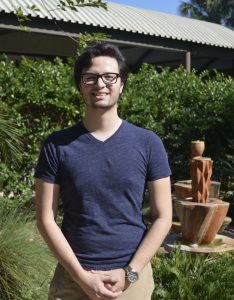 At the National Honors Level
With a D in pre-calculus, Israel Castillo did not consider himself a model STEM student in high school. Then one day, someone from the UCF College of Optics and Photonics paid a visit to his class and gave a talk on laser technology. It sparked an interest in Israel, leading him to independent internet research on Einstein's theories on light and energy.
Israel began nurturing a fascination for quantum mechanics, which he felt represented uncharted territory, something that was new, which he could discover through independent research.
"This is what people like Newton and Einstein did; they tied the knot on these loose ends to give us a new way of thinking," says Israel.
The promise of discovery kept Israel captivated, and when he learned about Valencia's two-plus-two program, he jumped at the opportunity to reach his goal of becoming a research scientist. Though Israel had since brought his pre-calc grade up to an A, it didn't take a math whiz to figure the bang he'd get for his buck at Valencia.
"I could take my general classes [at Valencia]. Why not do it for half the price?" Israel says.
Once at Valencia, Israel's LSAMP advisor, Amanda Russell, recommended that he submit an abstract for the National Collegiate Honors Council. For this he followed the evolution of photoelectric theory from Planck's experiments with UV lights and metal plates to Einstein's synthesis of competing theories, which now serve as the foundation of our modern understanding of quantum mechanics.
Israel felt he had a firm enough grasp of this topic to write an abstract, which he titled "Einstein's Photoelectric Effect: Determining Planck's Constant." Out of 600 applicants, which included students from four-year universities, 400 were accepted, including Israel. In October, he traveled to Seattle to present his paper. Rather than being intimidated by this, the 20-year-old Valencia student focused on what he learned as an honors research student at Valencia's East Campus, and measured his performance by his audience's ability to recite concepts back to him.
"A community college kid might get discouraged and say, 'Well if I go there, I'll get destroyed,' but there is always a chance to go to the national honors level at a two-year college," says Israel.
With his slumping high school days behind him and a bright future ahead, Israel highlights the importance of personal accountability to those who want to realize a dream.
"No one really pushed me in high school," says Israel. "But I can't blame others for my failures. I have to take full responsibility. Time flies by really quickly."