Tiffany Stewart and her son, Cornelius, were both looking for opportunity last fall, when Valencia College announced that it would begin teaching construction skills to Parramore residents who wanted to change careers – and start a job in the construction industry.
And on March 8, Tiffany and Cornelius – along with 28 other members of the Parramore community – marched across a stage in downtown Orlando to celebrate completing a six-week basic construction course.
With resumes and a folder of construction industry certifications in hand, the graduates are being recruited by local construction firms, including those working on the new downtown campus that Valencia and UCF will share.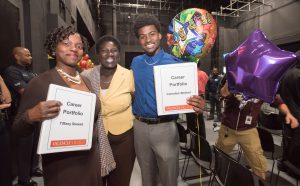 For Tiffany Stewart, the Valencia course was life-changing. "Six weeks ago, I knew absolutely nothing about the construction industry," she said. "But now I'm very well trained and very well equipped to start a career."
Her son, Cornelius, signed up for the course too and together, they pressed forward. "We studied together and when it got hard for me, he said, 'Mom, you can do this.'"
In January, Valencia brought the basic-construction course to Parramore, using vacant space at UCF's Center for Emerging Media.  The six-week class – which Valencia launched in Osceola County in 2015 – teaches students skills needed on today's construction sites, including hands-on construction skills, as well as "construction math," and how to read a blueprint. Valencia launched the short-term training program after local construction companies expressed concern about finding enough workers.
Orlando Mayor Buddy Dyer spoke at the graduation and shook hands with each graduate.
"Being in building construction is about the best business you can be in in Central Florida right now," Dyer told the crowd, which included the graduates and their families, as well as downtown business leaders and representatives from the construction industry. "When we began talking about this class, we wanted to have 15 students in this class – and we have 30."
"The positive energy and the smiles – this is quite an occasion," said Dyer. "I'm thrilled to be here to celebrate the inaugural graduation of Valencia's first construction class downtown….It's a proud moment for all of you and a proud moment for all of us. And to our partners at Valencia: Thank you, thank you, thank you!"
Valencia is using a curriculum developed by the National Center for Construction Education and Research. The nationally recognized certificate takes 72.5 hours to complete, but Valencia's program requires 200 classroom hours – which also includes basic computer skills, resume writing and interview skills.
Students are also issued their own personal protection equipment – hard hats, gloves, safety glasses, steel-toed boots and a tool belt with a quality, commercial-grade hammer, tape measure, level, speed square and screwdrivers.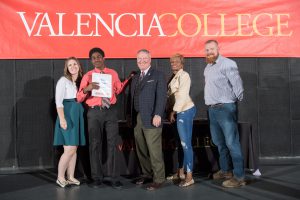 The program, which has received financial support from CareerSource Central Florida, the city of Orlando and the Valencia Foundation, has proven popular – and in other locations, 76 percent of students have landed jobs. The average wage for workers leaving the program is $12 to $14 an hour.
Dr. Eugene Jones, the executive dean of Valencia's new downtown campus, noted that there's already a waiting list for the next construction course, which starts on March 26. Jones also reminded the program graduates that they would become ambassadors for the program within the Parramore community.
"Today is your victory march," he said, adding, "When you get your certificates, take them back to the community and say, 'Yes I did, and yes I will."
Mark Hughes, Valencia's construction project manager, also gave the graduates some advice. "Celebrate the small wins," he told them. "Today is a win. If you get an interview and they give you a shot, that's a win." And he added, "Be persistent. Be the person they can count on. When they offer overtime, raise your hand."
For graduates like Wilguens Germinord, 34, who had been working in the housekeeping department of a local hotel, the construction program offered him a chance to change careers – with the promise of earning more money.
"I learned so many things," Germinord said. "This program changed my life. Financially, I'm going to make more money and be able to support my family."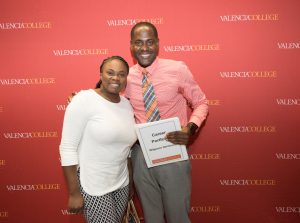 Lake Perry, 26, signed up for the program because he needed a job. After learning the basics of construction, he said, "I'm much more excited than I was at the beginning. Now I just want to get into the field."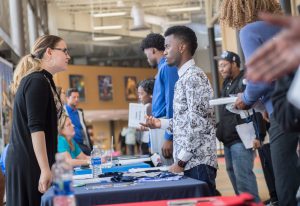 After the ceremony, the graduates posed with their certificates and their family members for photos before heading to the job fair, where local construction firms, including PCL Construction, Wharton-Smith Construction and Robins-Morton Construction, had set up tables and scheduled interviews.
Jones, the executive dean for Valencia's downtown campus, reminded the graduates to take advantage of the opportunities.  "When I went to my graduation," Jones recalled, "I didn't have employers lined up to interview me afterward."