Valencia College is mourning the loss of Ralph Clemente, who created and established Valencia's well-regarded film technology program.
Clemente was a member of the Directors Guild of America and a man who delighted in telling stories — and making deals that would bring films to Florida.
He was the Great Schmoozer, the Humble Bavarian and, in many respects, a father figure to hundreds of budding filmmakers who passed through the halls of Valencia College. He kept in touch with many of them over the years, accumulating a huge following of devotees.
"When you can have a positive effect on people's lives and help them reach their dreams," he once said, "that is the best reward a teacher can have."
Clemente, 72, died Sunday, April 5, of pancreatic cancer.  He was diagnosed with cancer on March 17. The diagnosis blindsided family members, who thought he seemed robust and healthy.
At the college, faculty, staff and students are grappling with the loss of a man who'd become an institution at Valencia.
"Ralph was a powerful person in the lives of his students and those with whom he worked. He will be deeply missed," said Stacey Johnson, president of Valencia's East Campus, where the film technology program is housed.
"It is shocking for us to imagine a world without Ralph, and it is unfathomable for us to imagine not seeing him here every day on campus," said Wendy Givoglu, dean of Valencia's arts and entertainment programs. "He has touched the lives of all who knew him, and I can say that I am honored to have worked so closely with him over the years. To us, his friends and colleagues, Ralph modeled the passion and dedication that it takes to teach our students how to thrive in a career in the arts and the charismatic leadership that it requires to inspire others. He always spoke of film as being a 'team art.' We were all lucky to be part of Ralph's team."
As a child in West Germany, Clemente grew up surrounded by show business. His great grandfather was a theatrical architect and his grandfather was the head of AAFA Studios in Berlin. His mother, Laura Tolins, was granted the first license for theater in the American Zone after World War II. When he was 14,  Clemente, his mother, sister and brother, moved to the United States, where his mother opened an acting school in Sarasota. Ralph, who couldn't speak much English, learned by watching TV.
After serving in the Army during the Vietnam War, Clemente moved to Miami, got his SAG card and started working both there and in New York City. He eventually performed in 70 national TV commercials. In the summer of 1965 he went back to Germany, got an agent  and started to act in films and TV shows. But while he was there, he began writing his first screenplay. Clemente's first theatrical short, "The Inning of the Week," won seven international film festival awards — and earned the attention of producers, who hired Clemente to co-direct his first feature film, "The Cayman Triangle."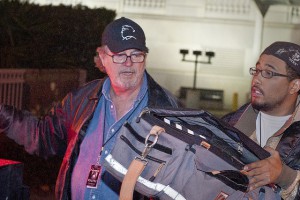 When Clemente decided to settle down and start a family, he landed a job teaching film production at the University of Miami, where he produced the 1985 film, "Cease Fire," a Vietnam film starring Don Johnson. At Miami, Clemente taught budding directors who would later collaborate with him at Valencia, including Academy-Award nominee Peter Spirer, who specializes in music videos and music industry documentaries, and David Nutter, the "X Files" producer who has made a career of directing TV pilots and season-ending episodes, including for HBO's "Game of Thrones."
From the time Clemente came on board at Valencia in the late 1980s — where he was charged with starting a new film program to help the state's burgeoning film industry — he had one goal. He wanted to help students, many of whom dream of becoming directors, learn job skills that would enable them to work their way up in the film business.
"I want to make our students employable," Ralph said. So students in Valencia's film technology program learn about lighting, sound, cameras, producing and how to scout for locations — all the skills needed to make a movie.
Classes began in 1988 at Disney MGM Studios, then moved to Universal Studios Florida, before the college kicked off its two-year Associate in Science degree program.
What made Valencia's program stand out was Clemente's insistence that his students would get hands-on experience working on feature films. So Clemente plied the industry, searching for directors who wanted to make feature films but needed some help — in the form of Valencia students or film equipment. The students did not replace veteran technicians, but learned by working alongside them. As a result, students got the chance to work on films with budgets ranging from $10,000 to more than $3 million.
Appearing on the "Today" show in 1989, Steven Spielberg mentioned that Valencia Community College in Orlando, Florida had one of the most innovative film schools in the country. "There is a very enthusiastic workforce ready to go to work in the movies there. And there's also a program under way right now where Universal Studios has funded Valencia Community College in one of the greatest programs for training young filmmakers and technicians. This is all seed and fodder for the future and some good things are happening."
When Valencia graduates Gregg Hale and Ben Rock, along with a handful of UCF film students, created the 1999 box office hit, "Blair Witch Project," national attention turned to Valencia's film program.  Hale, who graduated in 1992, credited Clemente with teaching him what it takes to make a movie. "Ralph is responsible for holding the program to its rigorous standards. That's what makes Valencia's program so incredible," Hale said. "If you take it seriously, you can literally walk out and get a job the day you graduate."
During Clemente's tenure at Valencia, students worked with dozens of Hollywood veterans, including Robert Wise, George Romero, Reza Badiyi, Jonathan Krane, Julie Harris, Ruby Dee, Sally Kellerman, Joe DiMaggio, Ed Begley Jr., Tyne Daly, Mickey Rooney and Talia Shire. Under his leadership, Valencia film students collaborated on 47 feature films,  including "The First of May," a circus film starring Mickey Rooney, Julie Harris and Joe DiMaggio, and "Silver Wings & Civil Rights: The Fight to Fly," a documentary feature film about the Tuskegee Airmen that won many awards at international film festivals.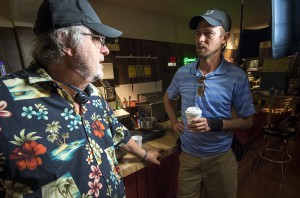 The Valencia film students' most recent work ranges from the newly released Sony Pictures' "To Write Love on Her Arms," with a cast that included Kat Dennings,  Rupert Friend and Chad Michael Murray, to the Southern comedy  "Campin' Buddies," which was shot last summer in Shreveport, La.
Always passionate about film in Florida, Clemente in 2008 received the Film Florida Legends Award, which honors pioneers in the film, TV and production industry who have made a significant impact on film in Florida.  During the filming of "Campin' Buddies," Clemente wrote a letter to the editor of the Orlando Sentinel from Shreveport, urging state legislators to restore incentive funding for filmmaking in Florida. "It is a shame that I had to bring my students out of state to get the hands-on feature film experience that I promised them before they signed up for Valencia's film program," he wrote to the Sentinel. "I hope that when these students graduate, they will be able to use those skills in our beautiful home state, in a robust, not declining, film industry."
Clemente fans, however, may not have seen the last of him.
In November 2014, Clemente and his wife, Emily, visited the set of "Game of Thrones" in Ireland, where director David Nutter — a former student of Clemente's at the University of Miami — cast the Clementes as extras in an upcoming season finale.
Clemente is survived by his wife, Emily, and two sons, Randolph and Parker, as well as a granddaughter, Valentina. Randolph Clemente practices law in Miami. Parker, a graduate of Valencia College and the University of Miami, is a film director and a member of the Director's Guild of America.
A service for close friends and family will be held on Saturday in Miami. A celebration of Clemente's life is being planned for Orlando; details are pending.
Contributions to scholarships may be made in Ralph Clemente's honor through the Valencia Foundation.