Orlando, FL – Valencia College has been named one of the best colleges in the nation to work for, according to a recent survey by The Chronicle of Higher Education, a trade publication for colleges and universities. This is the first time Valencia has received the honor.
The results, released on July 17 in The Chronicle's 10th annual report on The Academic Workplace, are based on a survey of 232 colleges and universities.
Only 79 of the 232 colleges and universities that applied for the program achieved "Great College to Work For" recognition. Results are reported for small, medium and large institutions, with Valencia College included among the large institutions (with 10,000 or more students). This is the first time Valencia has participated.
Valencia, which has 3,544 employees, was also named an Honor Roll college, one of only 42 colleges and universities to earn that designation. Valencia was named to the Honor Roll for achieving high marks in multiple categories. The college was recognized in nine categories:
Collaborative governance
Confidence in senior leadership
Facilities, workspaces and security
Job satisfaction and support
Professional/career development programs
Respect and appreciation
Supervisor/department chair relationship
Teaching environment
Work/life balance
"At Valencia College, we have spent the past 50 years working to create a college where every student can succeed — and, along the way, we have earned national acclaim," said Dr. Sandy Shugart, Valencia College's president. "Visitors often want to know what our 'secret sauce' is. The truth is that it's our people. At Valencia, every faculty and staff member collaborates to make this a great college for students — and, along the way, they've made Valencia a great place to work."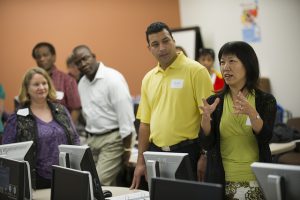 "Ten years in, The Great Colleges to Work For distinction is well-known by academic job seekers as a sign that an institution's employees are valued and given opportunities for growth even when they face financial constraints," said Liz McMillen, editor of The Chronicle. "Any college or university that's on the list is showing that they emphasize one of their most valuable assets: their faculty and staff."
The survey results are based on a two-part assessment process: an institutional audit that captured demographics and workplace policies, and a survey administered to faculty, administrators, and professional support staff. The primary factor in deciding whether an institution received recognition was employee feedback.
To administer the survey and analyze the results, The Chronicle worked with ModernThink LLC, a strategic human capital consulting firm that has conducted numerous "Best Places to Work" programs, surveying hundreds of thousands of employees nationwide.
Great Colleges to Work For is one of the largest and most comprehensive workplace studies in higher education. For more information on Valencia's recognition and to view all survey results, visit The Chronicle's website at www.chronicle.com/AW17. To learn more about working at Valencia College, please visit http://valenciacollege.edu/hr/